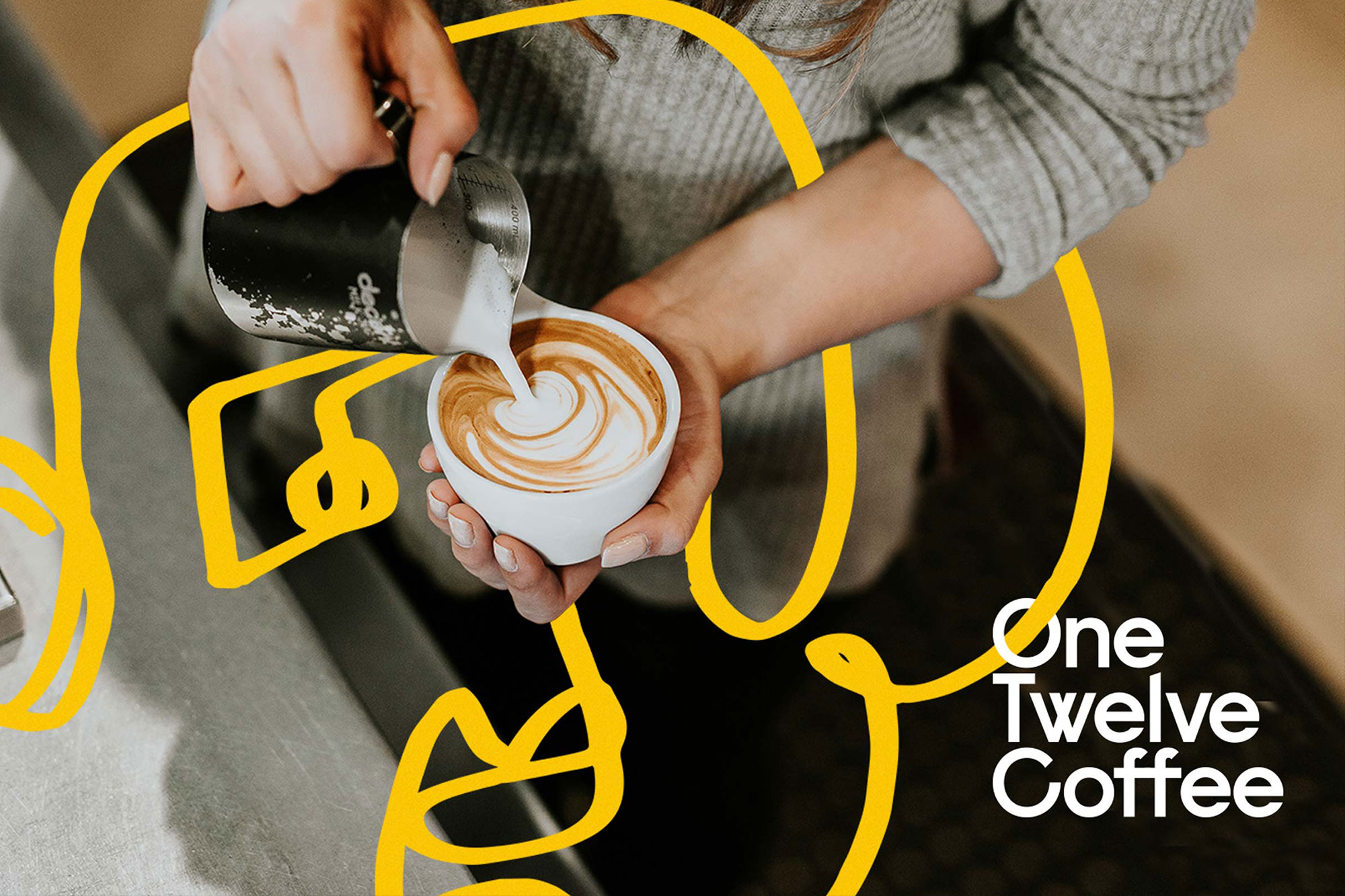 One Twelve Coffee
Choosing a name and building a striking new brand identity for a new coffee shop with purpose.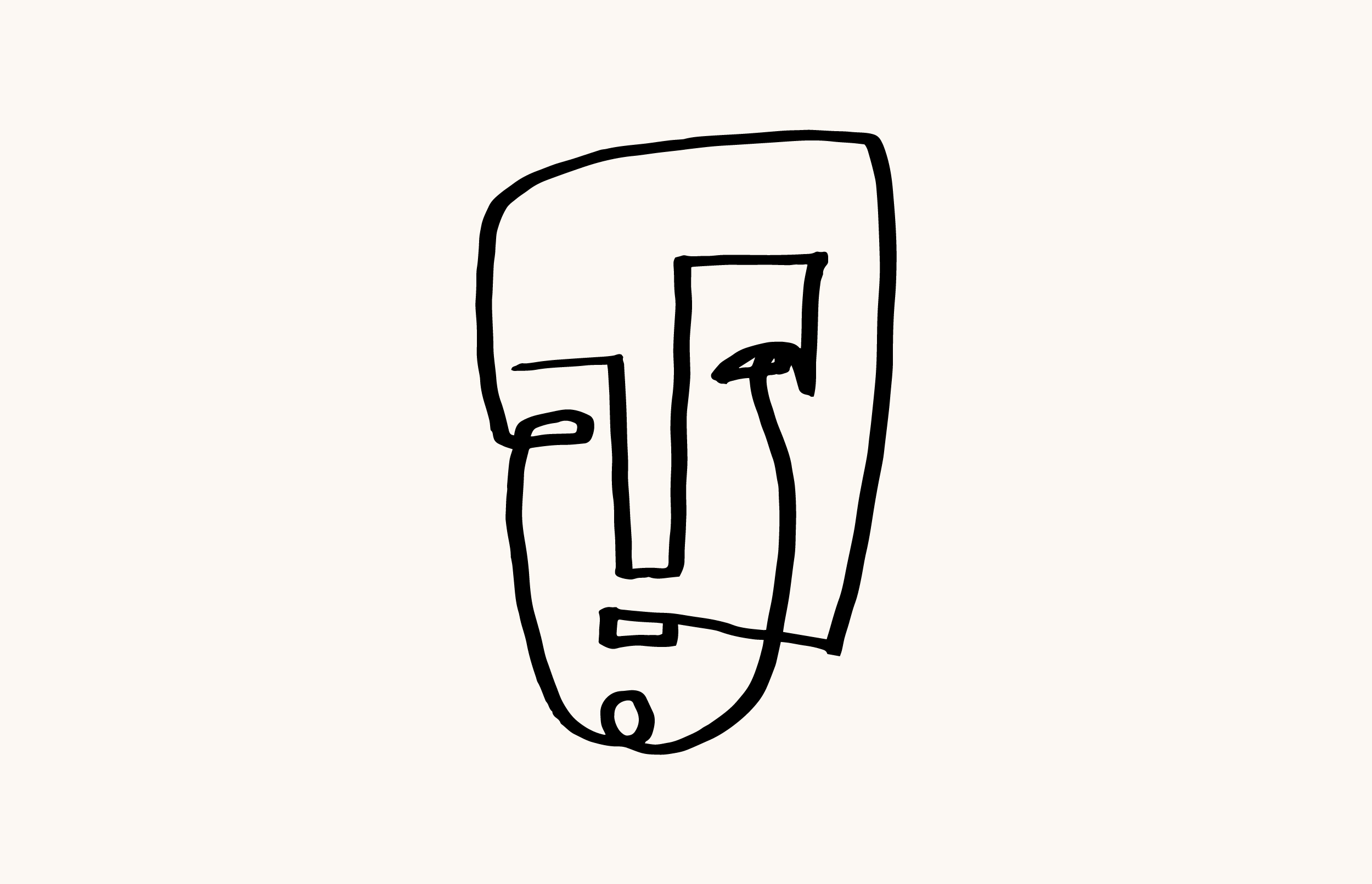 Earlier this year we were approached by the Pobl Housing Group based in Newport to provide some graphic design and strategic creative support. The team had identified a gap in the support they were working hard to provide to those affected by homelessness. They had an idea and a location in mind for a coffee shop that would fill this gap, a place where people could learn the skills to become a barista in an inclusive and supportive environment. These highly transferable and desirable skills could then be taken forward and used in any other business or town as required. It had the potential to bridge the gap between homelessness and self sufficient independence.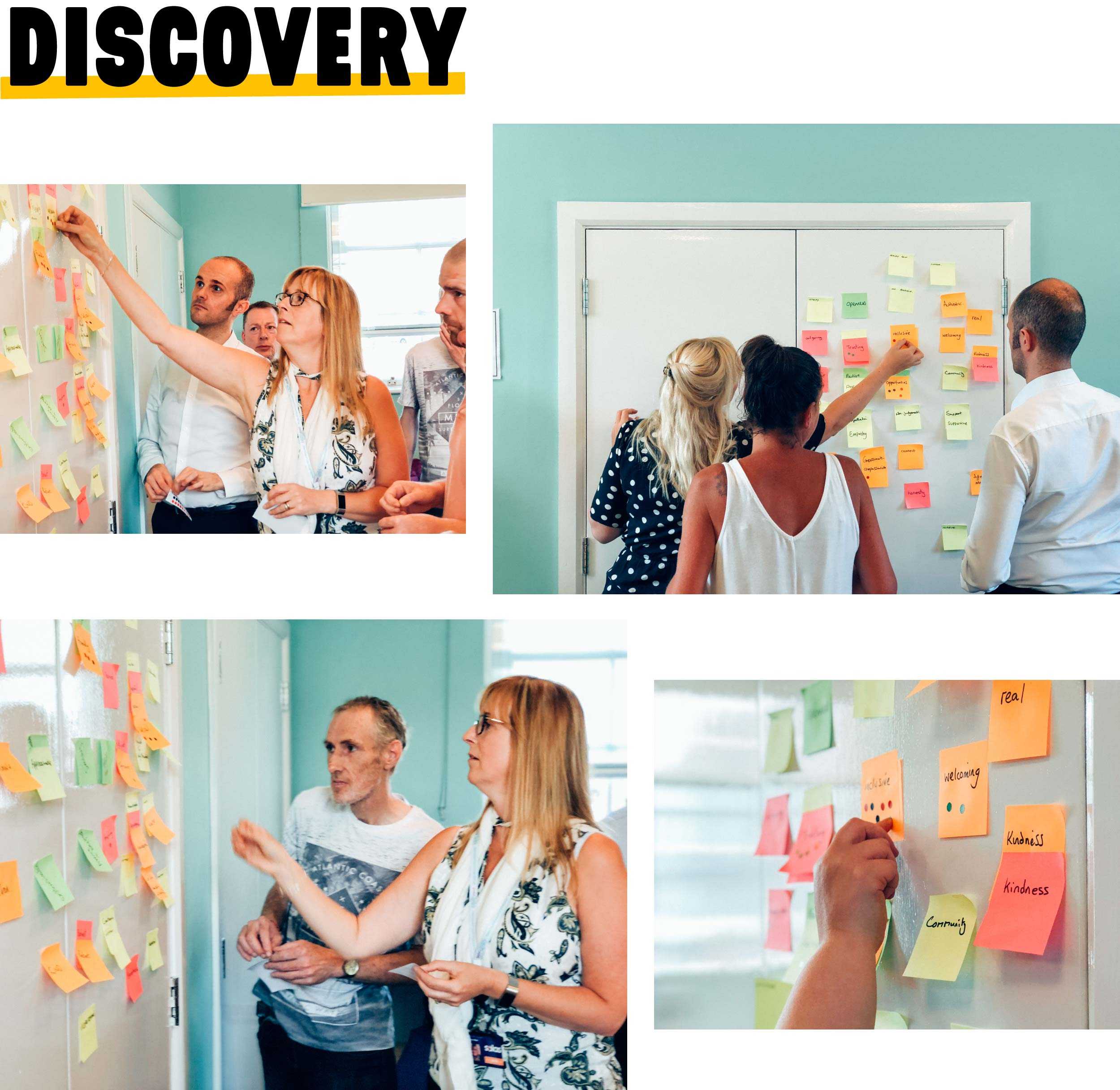 Discovery
We were very excited about the motivations behind this project, we were already debating ways in which we could be of help to those affected by homelessness in Cardiff. It's no secret that it is a growing and increasingly obvious issue in our society that shouldn't be ignored. We were very grateful to be offered the chance to work with Pobl, with their incredible reputation for making a real difference to people's lives, often when they need it most.
Firstly, we knew we had a lot to learn, so we asked if we could have some time with all the key stakeholders from the project. Pobl completely understood the importance of this as part of the design process and helped gather people from across the project, with no hierarchy or bias, so we could pick their brains. We have no doubt that the outcome of our work would not have touched the staff or customers in the way it has if it wasn't for that initial discovery session. It was clear that everyone present was incredibly passionate about making this project a success. Not for financial gain as the coffee shop is not for profit, but more for the idea that this would provide practical skills and support to those who need them, when they might otherwise be excluded from this kind of opportunity.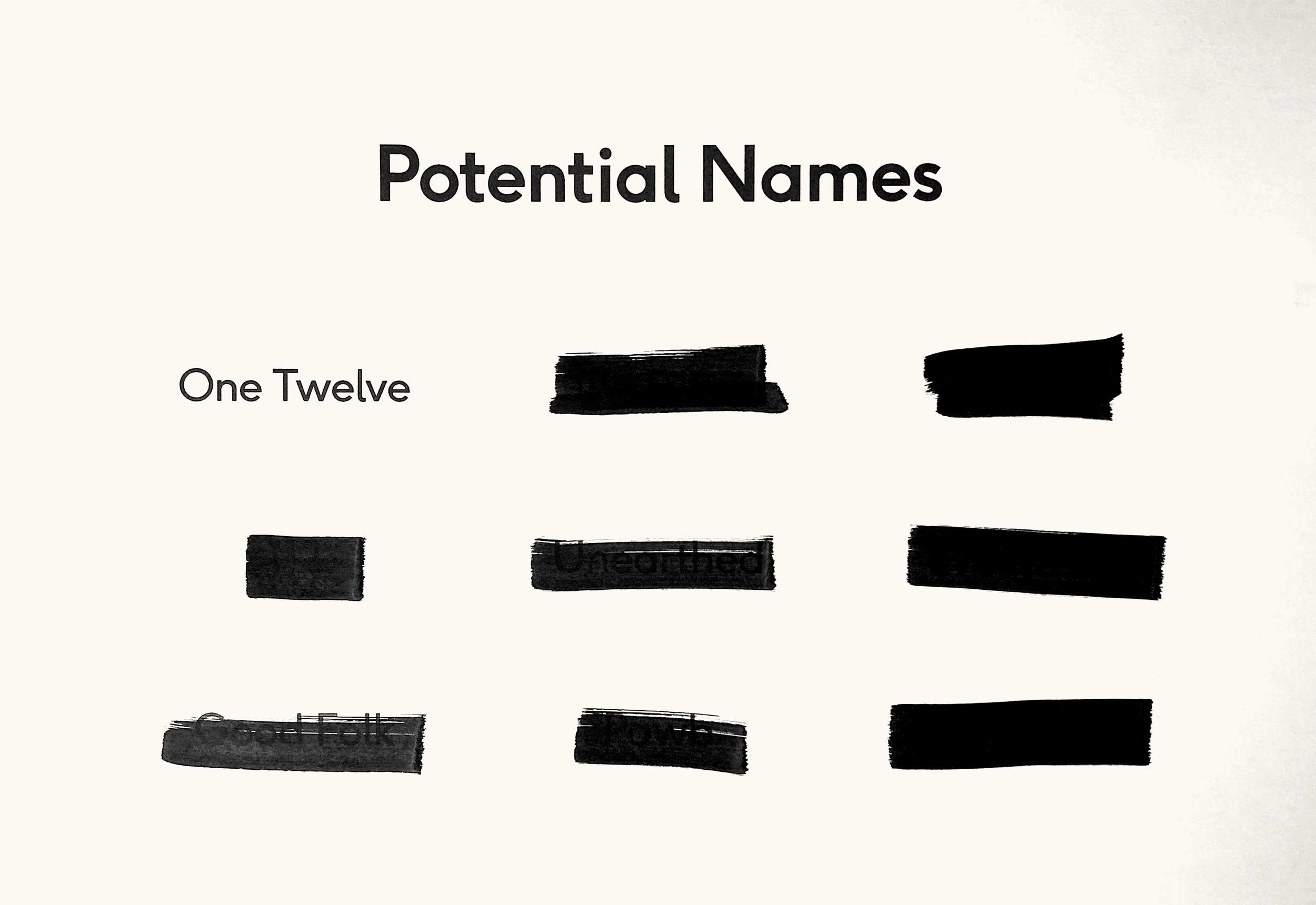 Naming
Finding the right name for the coffee shop was tricky. When you are working on something that is so inherently beneficial to some of the most vulnerable people in society finding a name that doesn't sound too trite or self righteous and therefore wholly offputting is hard! We had many, many suggestions but we whittled them down to just nine options for the team to discuss. We loved One Twelve Coffee because it at once offers a sense of place (street number) but also, we discovered, hints at the often quoted statistic that one in one twelve people are in some way touched by homelessness. We loved it's simplicity and the fact it wasn't overly explicit.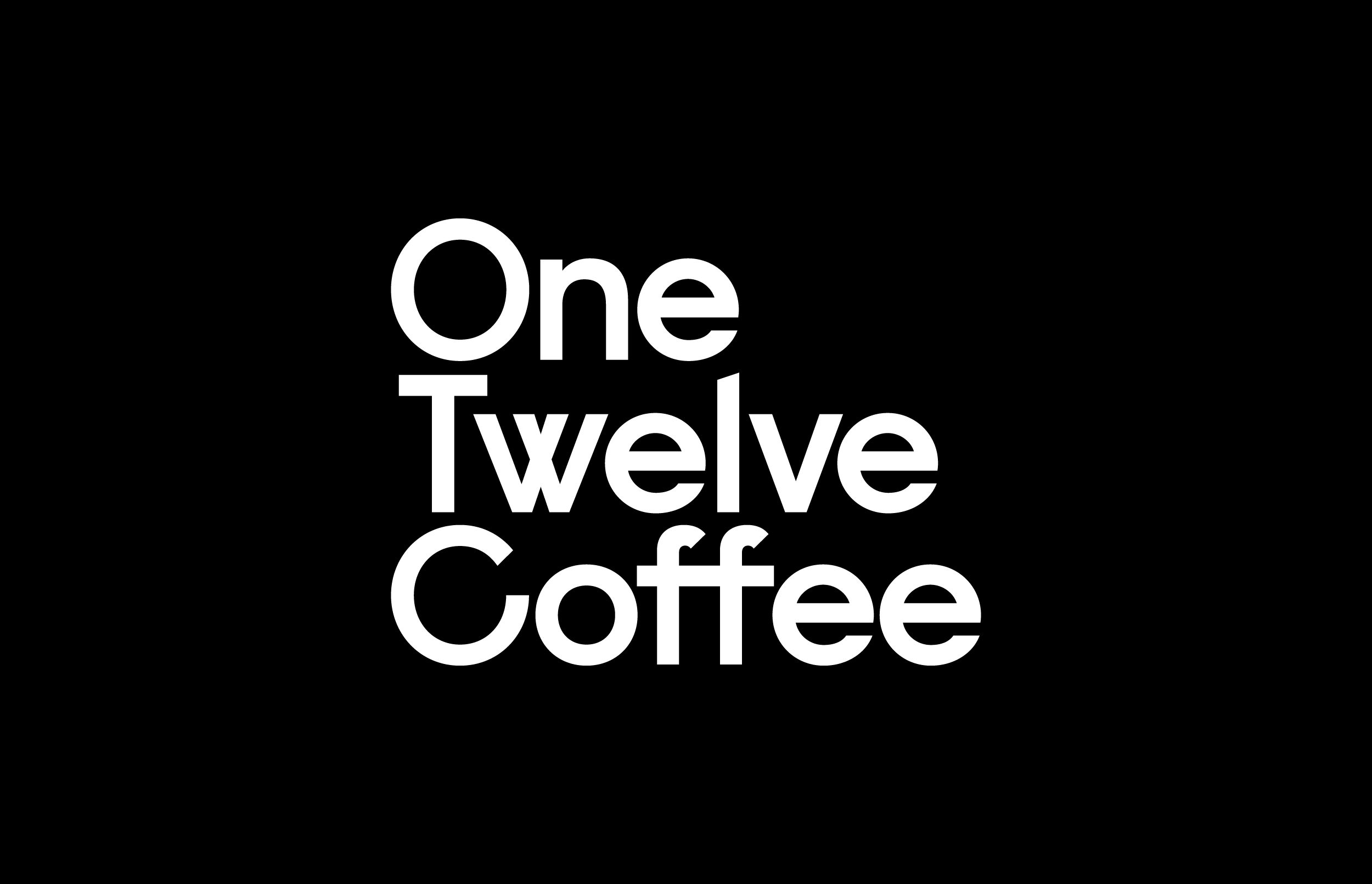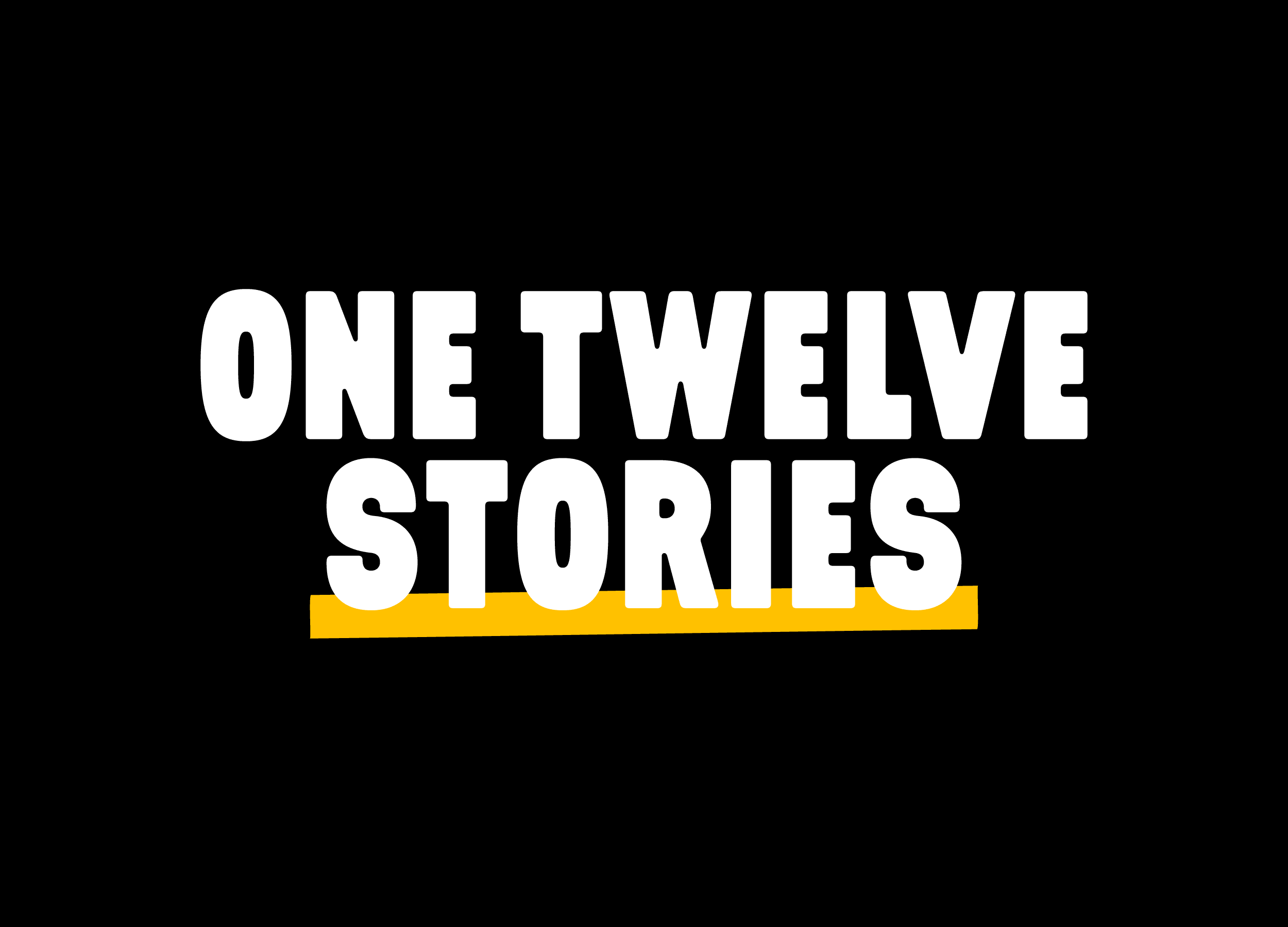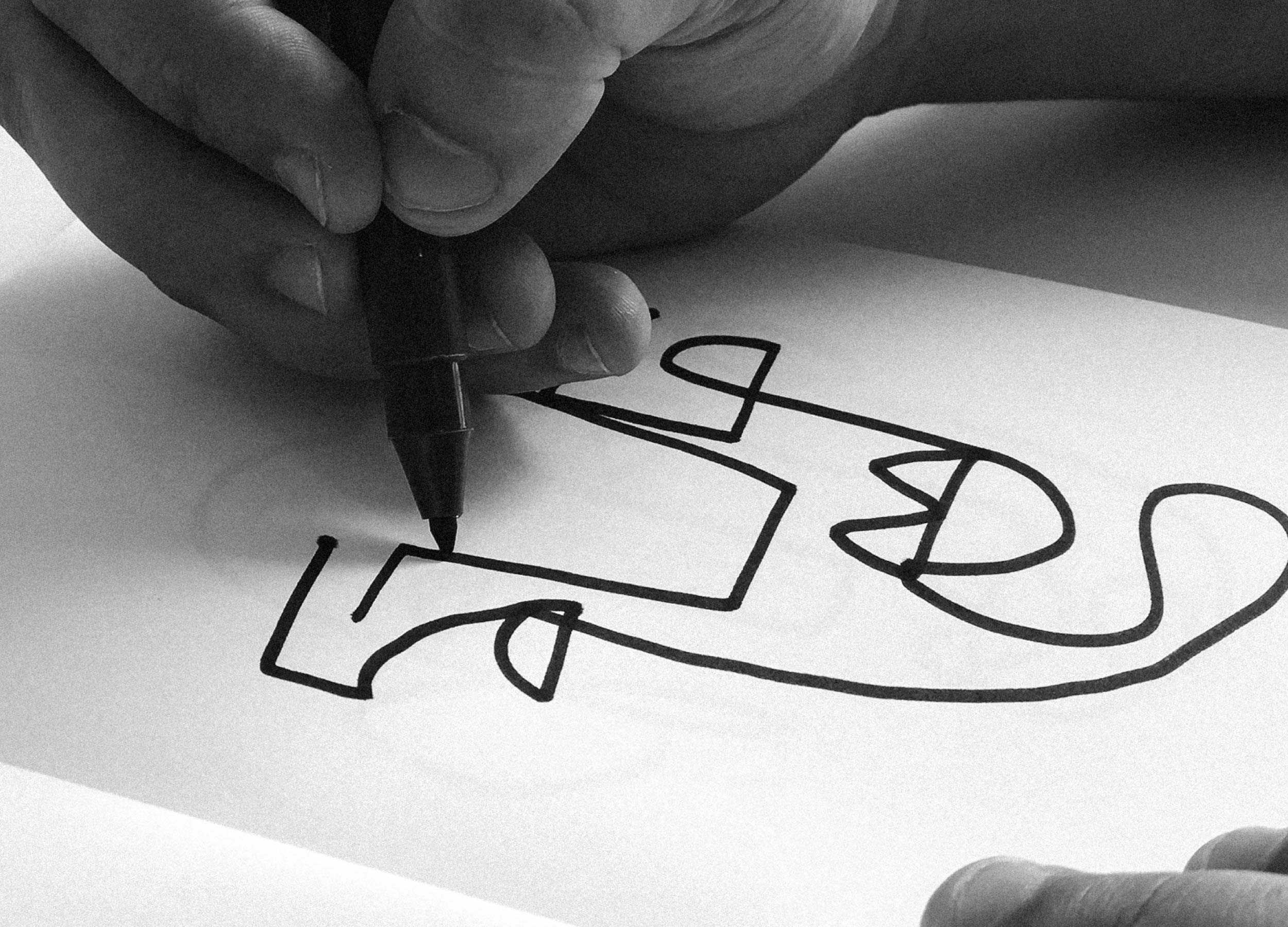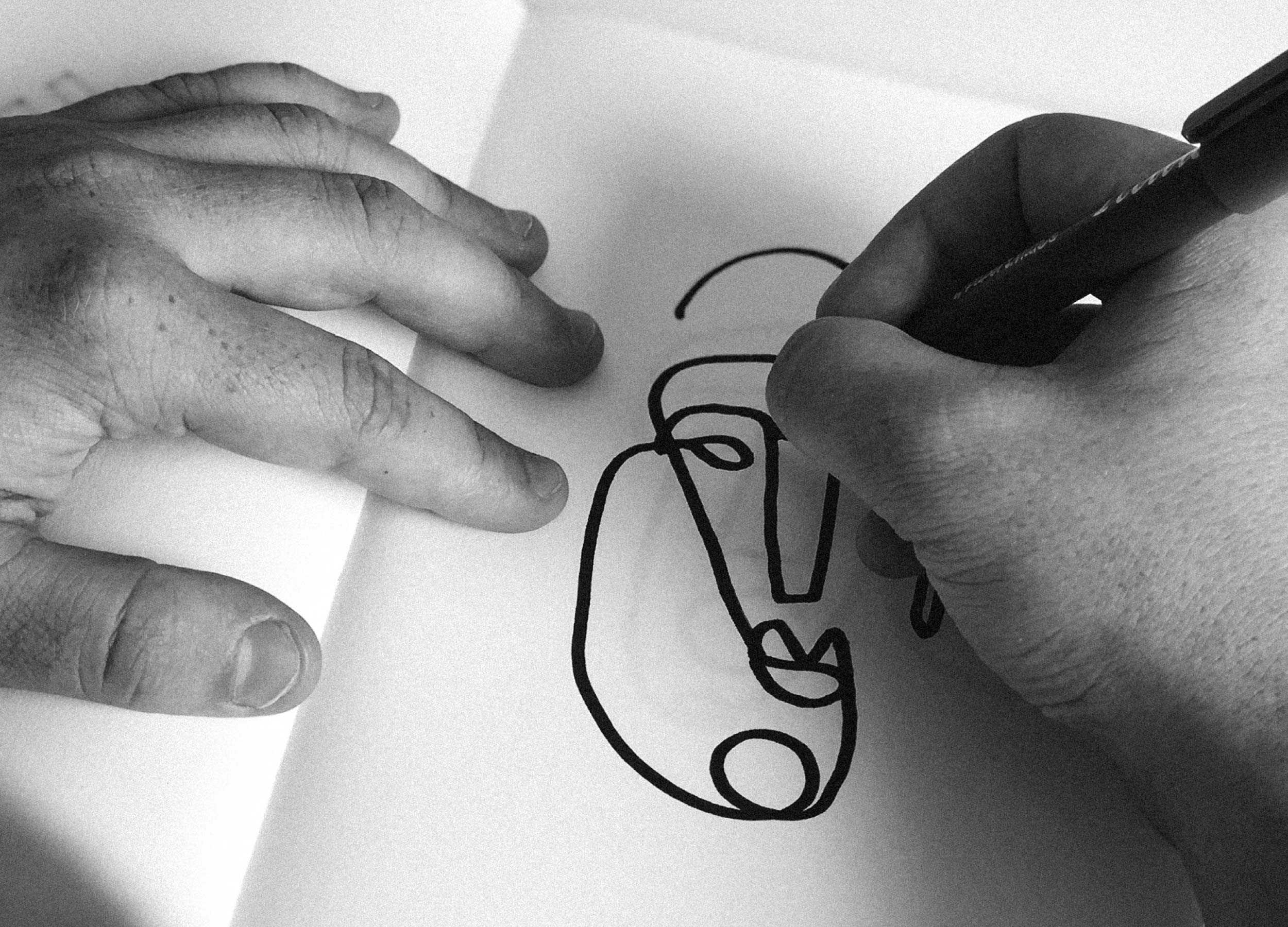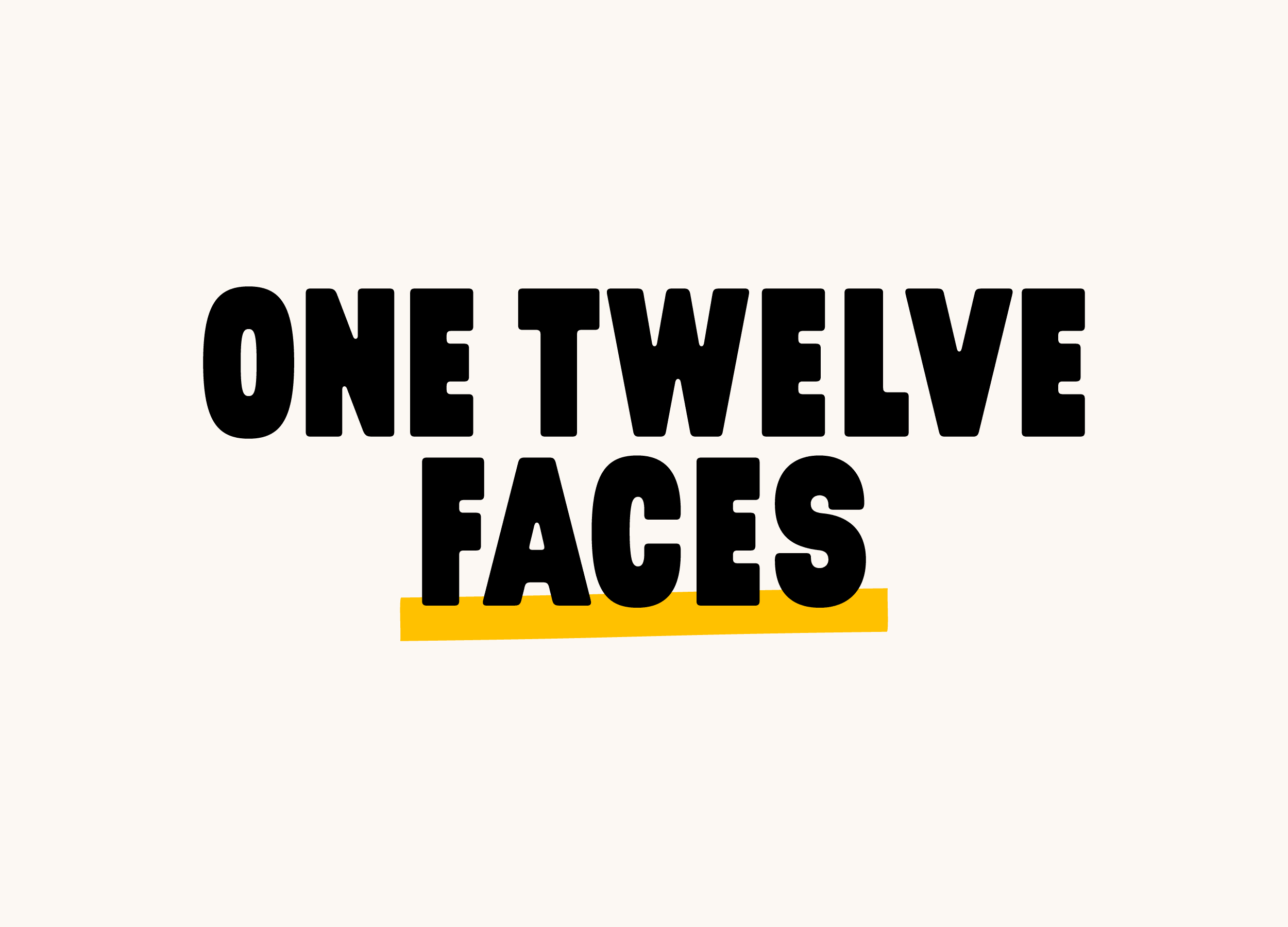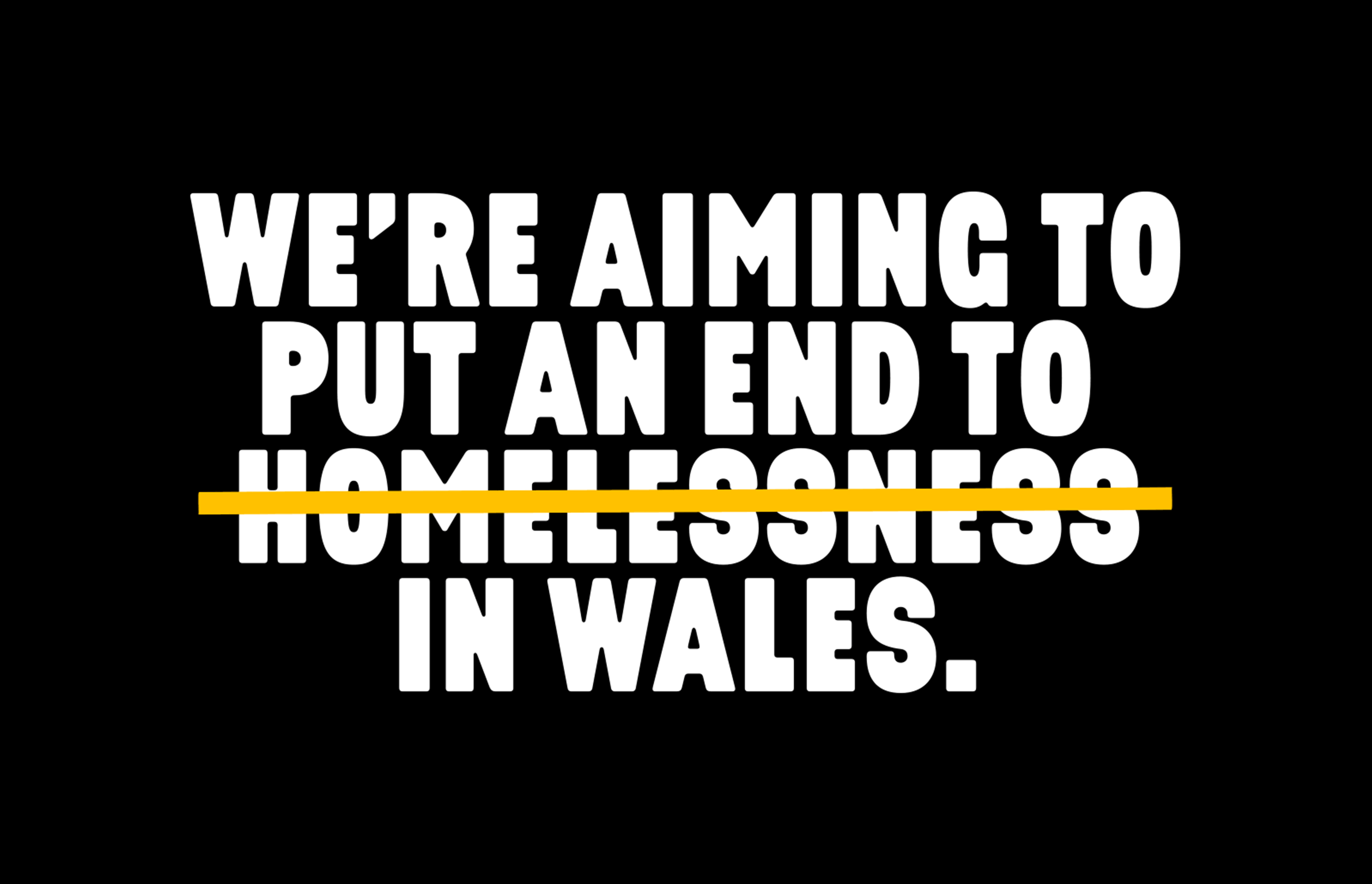 Manifesto
We worked closely with One Twelve Coffee to truly understand what the business was all about and what their objectives were. We underpinned everything with a written manifesto to ensure every employee and customer understood what they are part of.
Coffee with Purpose
Like many great coffee shops, we work hard to deliver the best coffee and exceptional service to our customers – however at One Twelve Coffee, we do things a little differently. We're a non-profit coffee shop that invests in people who have experienced homelessness, helping them to get back into housing, work and society.
Through innovation, creativity and great coffee, we're on a mission to put an end to homelessness in Wales. Ambitious, of course – but we have faith in our people and we're not going to give up.
As part of the Pobl Group, we have worked tirelessly for decades to help people get back into housing and we've learned that everyone's situation is unique. Despite our tenants being in a safe and secure home, we know the job doesn't end there – which is why we started One Twelve Coffee.
One Twelve Coffee provides an excellent barista training programme for our tenants. So they will not just have somewhere they can call home – they will also have the skills to provide the perfect coffee and a brilliant service to you, our customer.
If our staff do decide to move on from our coffee shop, they will have the skills and experience to get a job in any city in the UK – giving them a far better chance of avoiding homelessness in the future.
So, sit back, relax, enjoy your coffee and know that you are making a positive difference to people's lives. Thank you.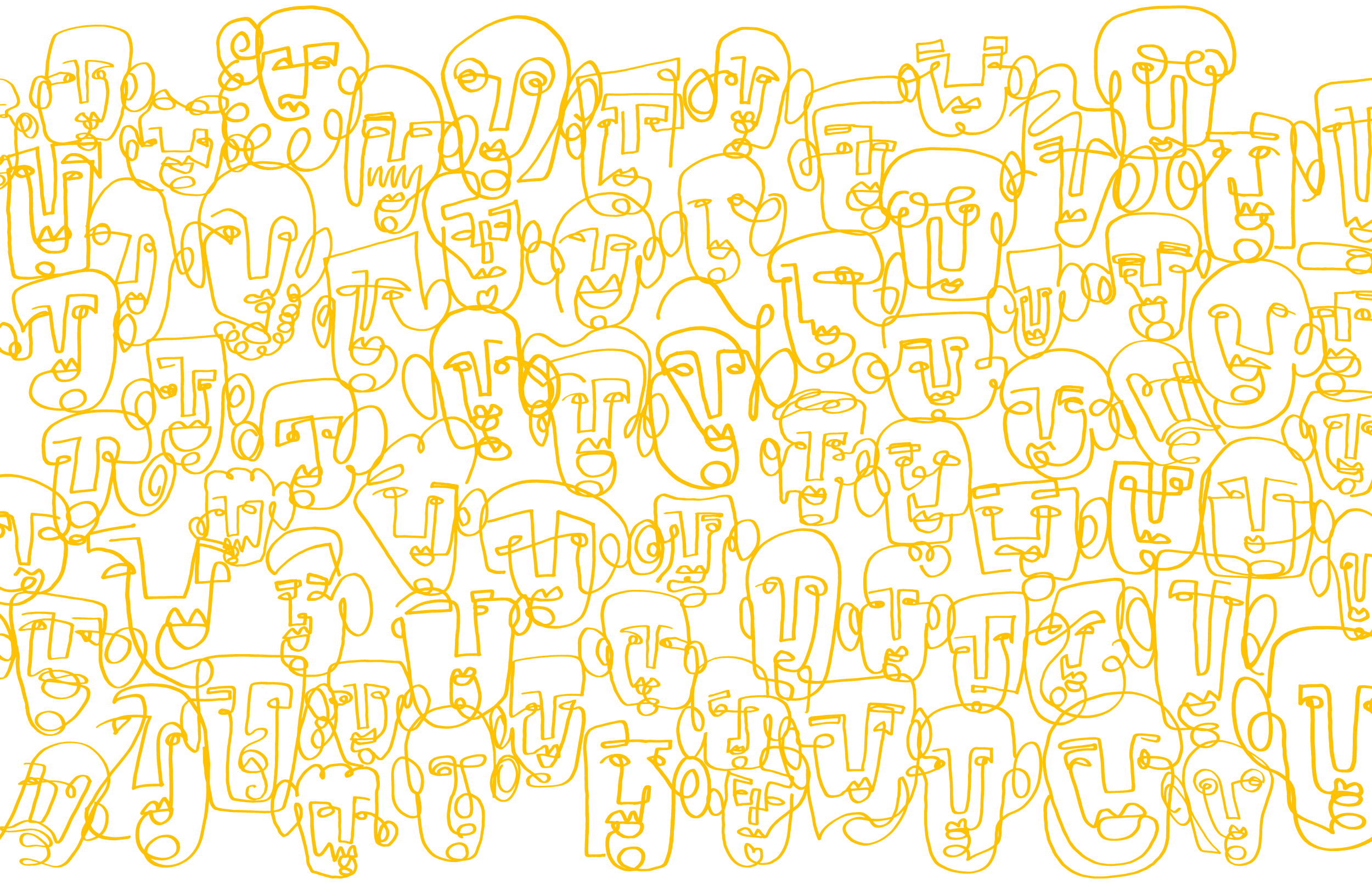 Identity and illustration
We started to develop the identity using a set of single-line illustrations, at once individual faces but also unidentifiable. After interviewing several people who had experienced homelessness, we learned that each story was completely unique. Behind the statistics there were people and we wanted them to be represented, so we illustrated 112 different faces to represent 112 stories. Within the identity, only one face would be used at any given time – creating a dynamic and changeable identity that would feed into a bold and engaging design style.
We knew typography was going to be an extremely important part of the brand. We needed a typeface to complement the unique nature of Raisonné which is what we used and customised for the word mark. When we found Krana Fat and started to play around with it we realised we had our second typeface. The playful but honest nature of Krana Fat compliments the word mark perfectly.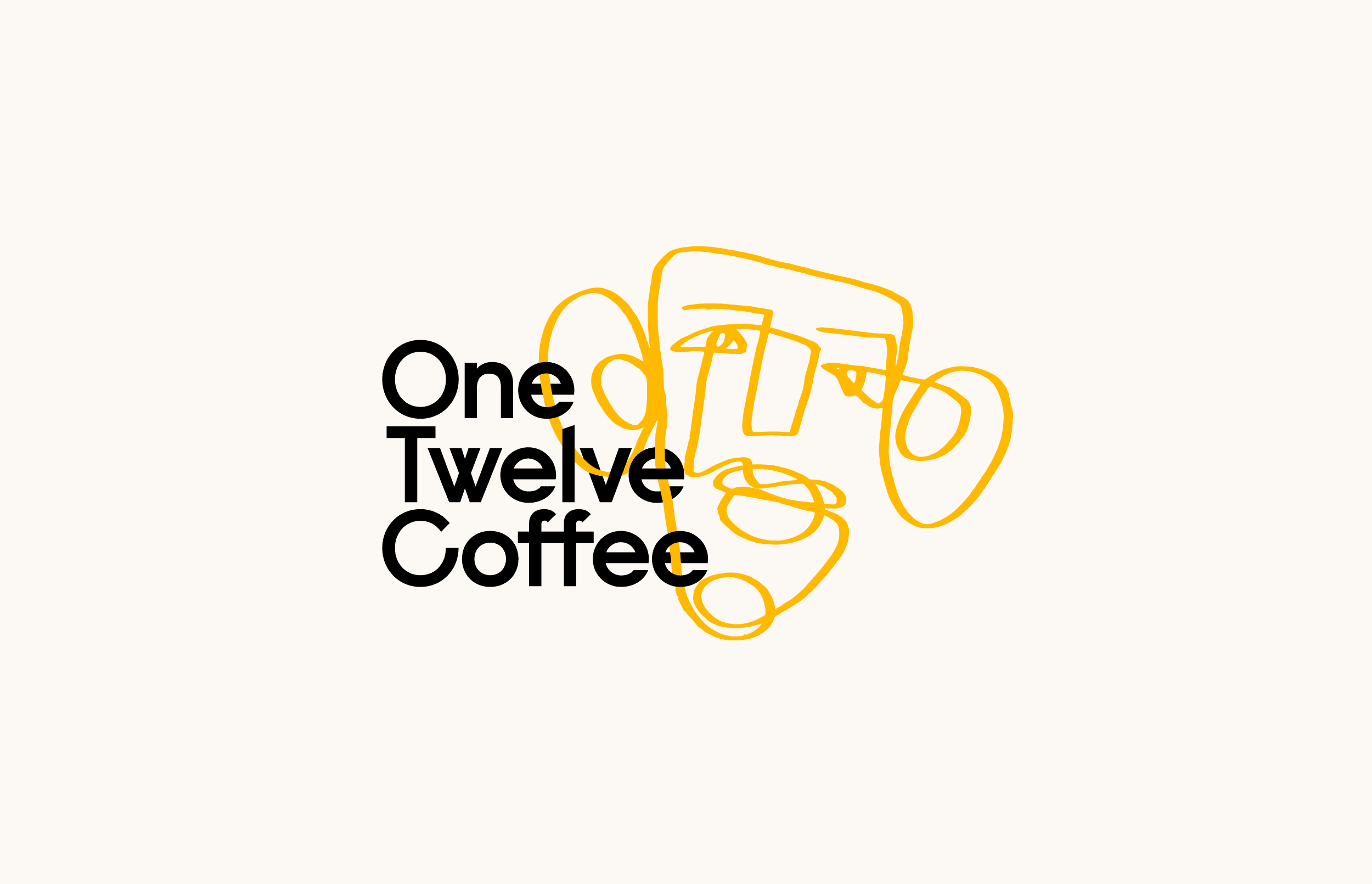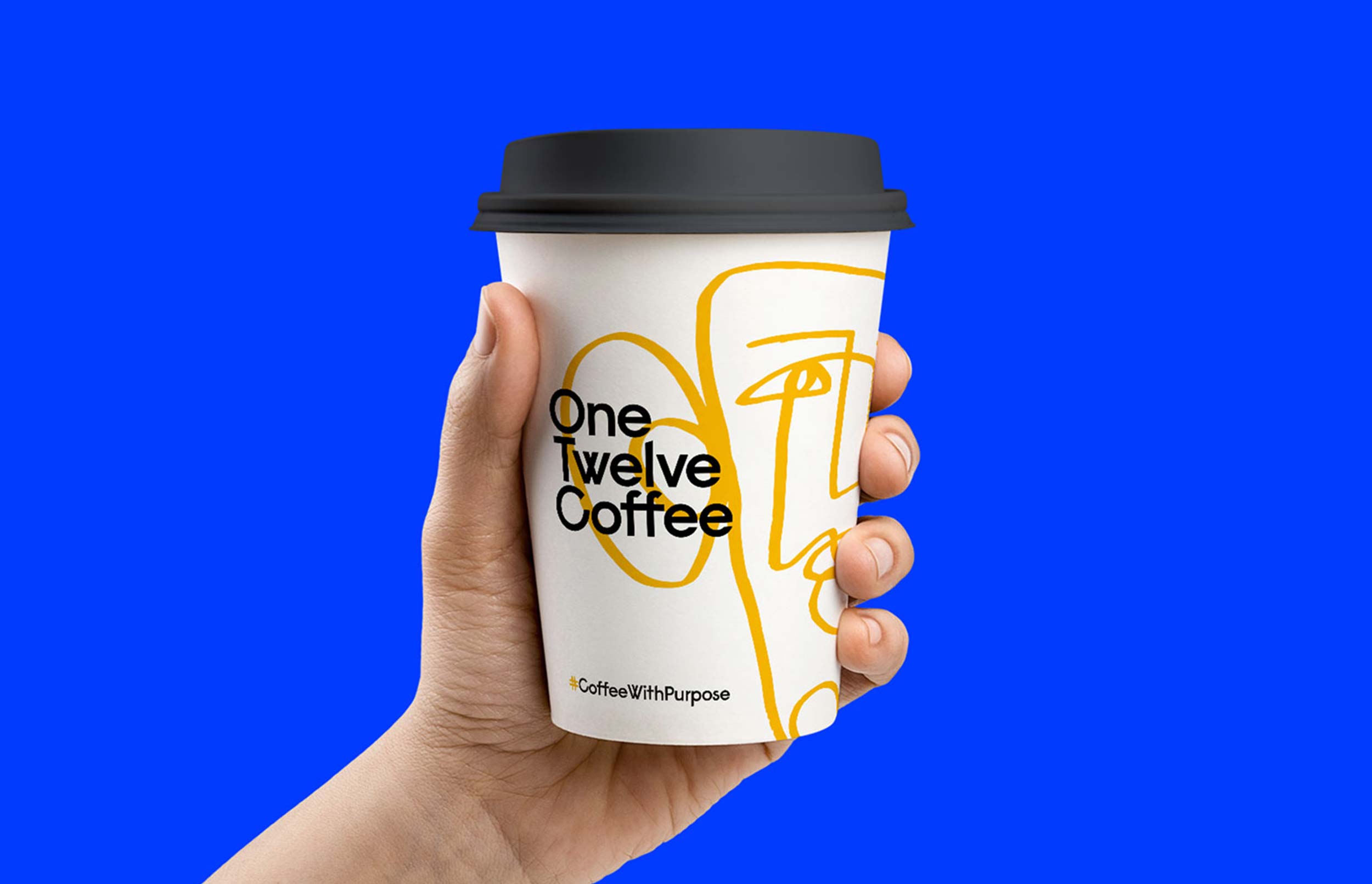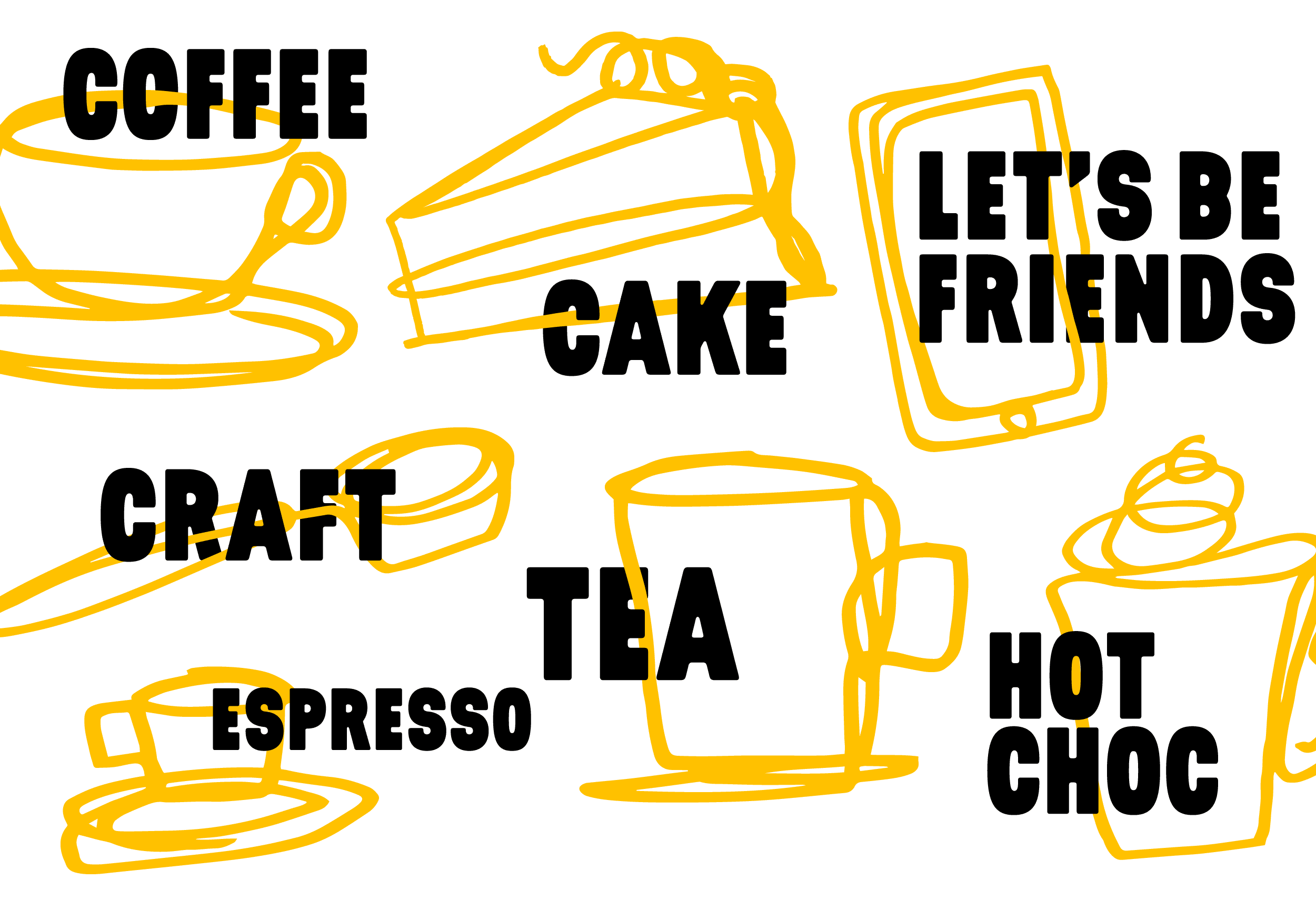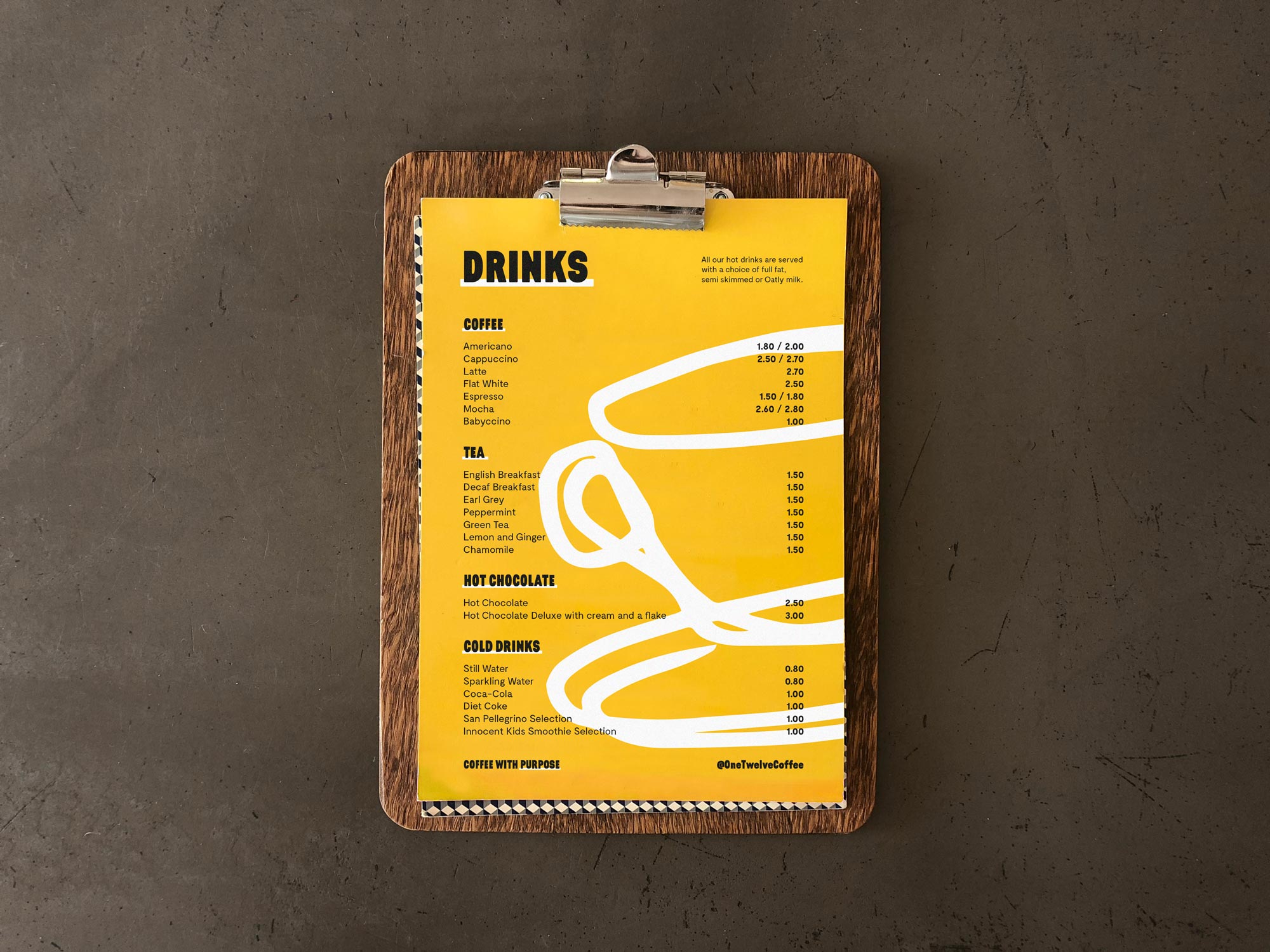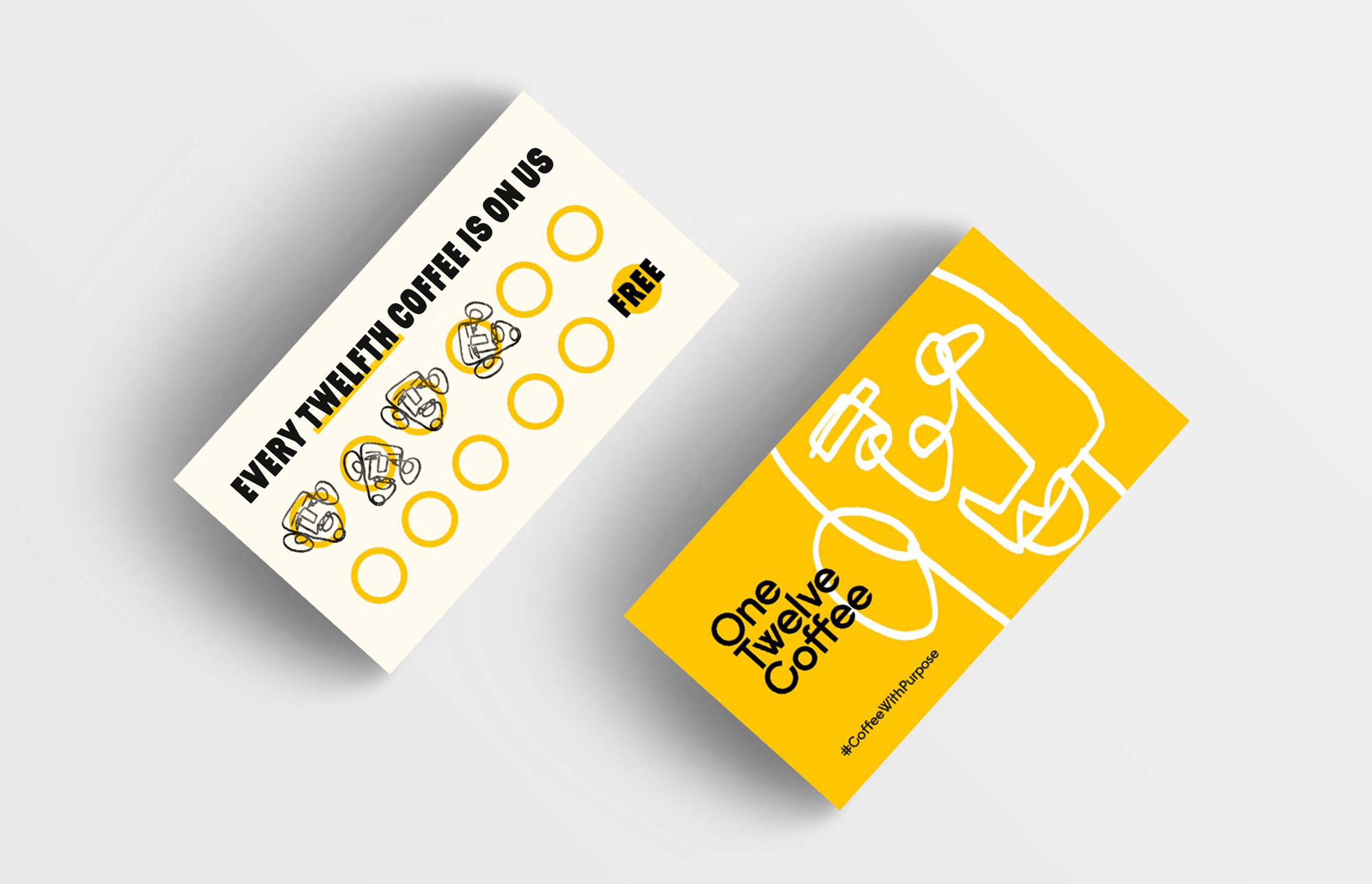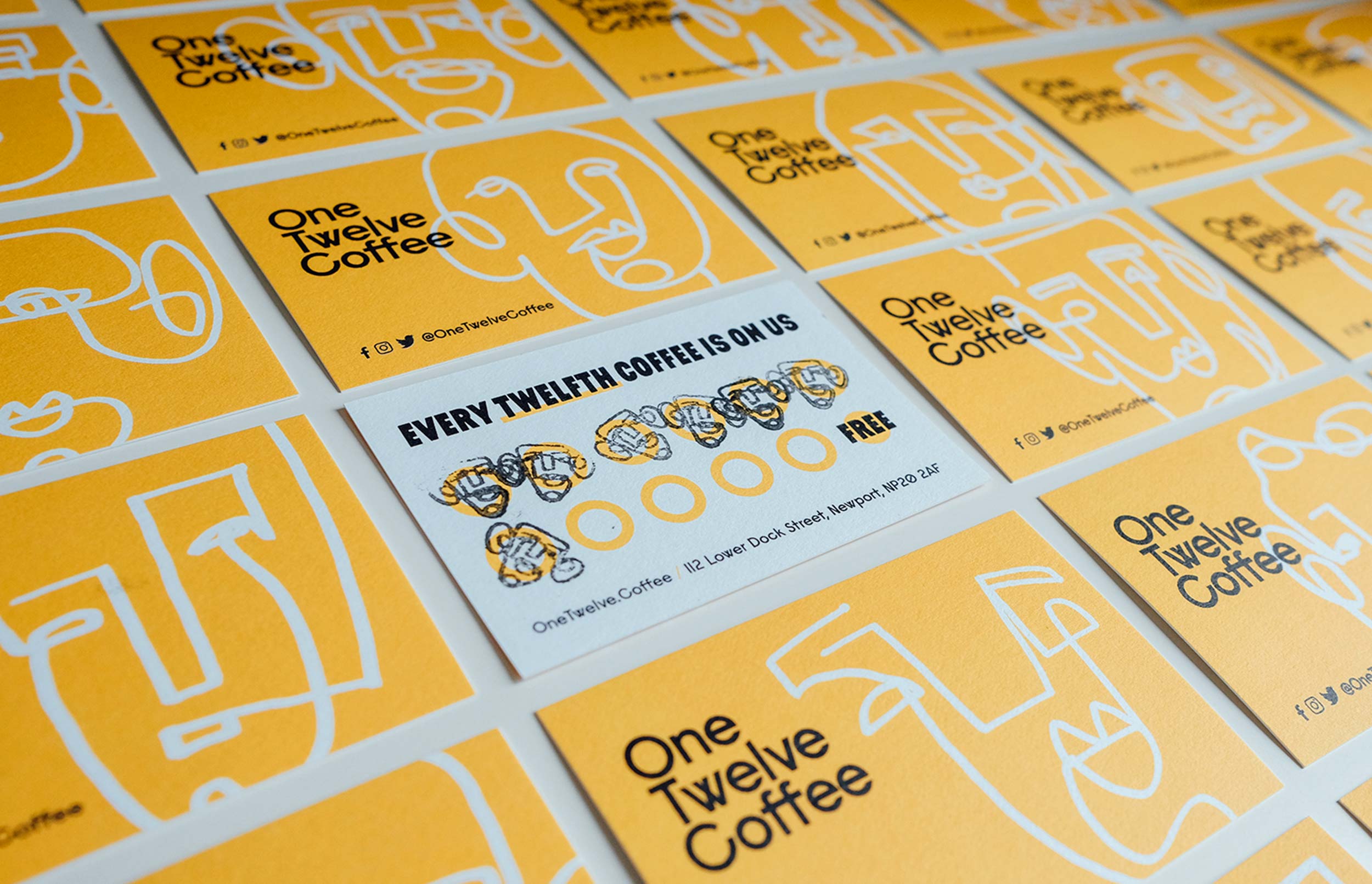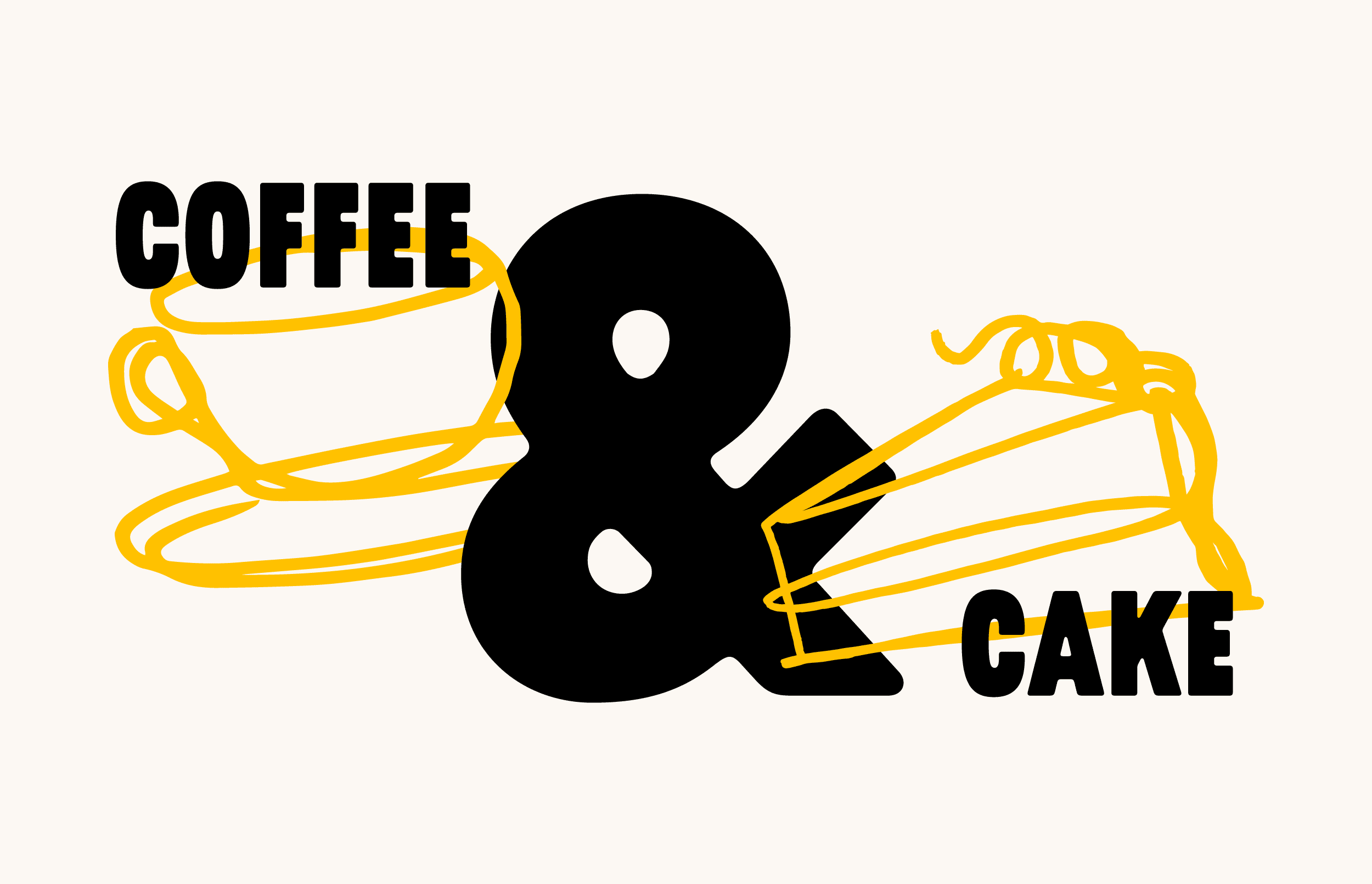 The Coffee Shop
Seeing the coffee shop come together has been brilliant and testament to the hard working team behind it. It's a warm, welcoming, inclusive space that serves really good food and drinks. Coaltown Coffee provide training and beans so you are guaranteed a very good cup of coffee! We designed the interior walls and the window graphics to ensure that the brand experience was coherent, visually representing the unwavering support that the Pobl team bring to the project. We wanted to make sure the brand was communicated consistently and in such a way that it instills trust and respect for those involved. We worked with a traditional sign painter to ensure the mission was clear for all customers to see and beautiful to look at; Coffee with Purpose. We also designed t-shirts and aprons for the staff, we felt it was important that the uniform helped them feel like a team and that it was clear we are all working towards the same aim.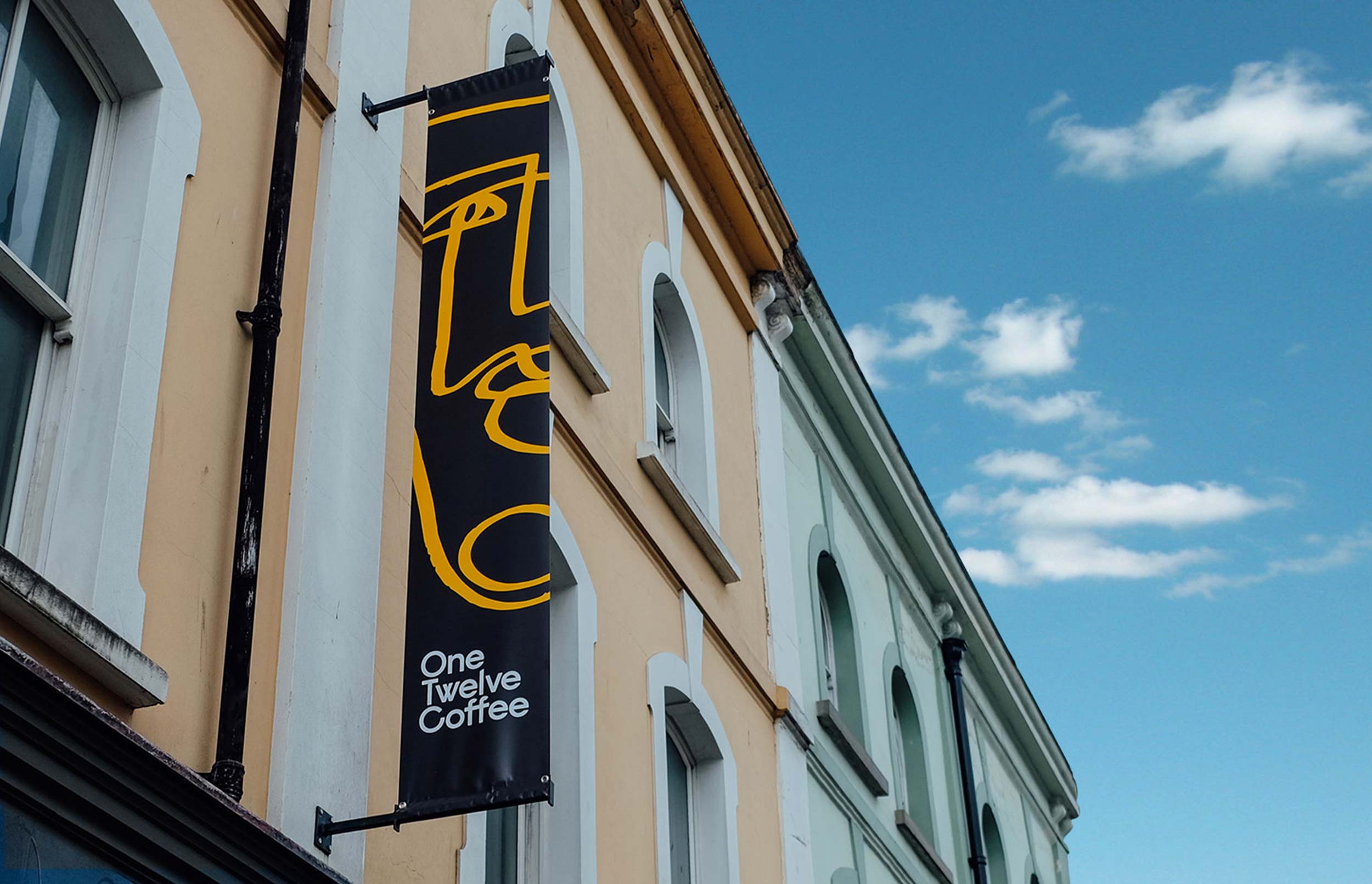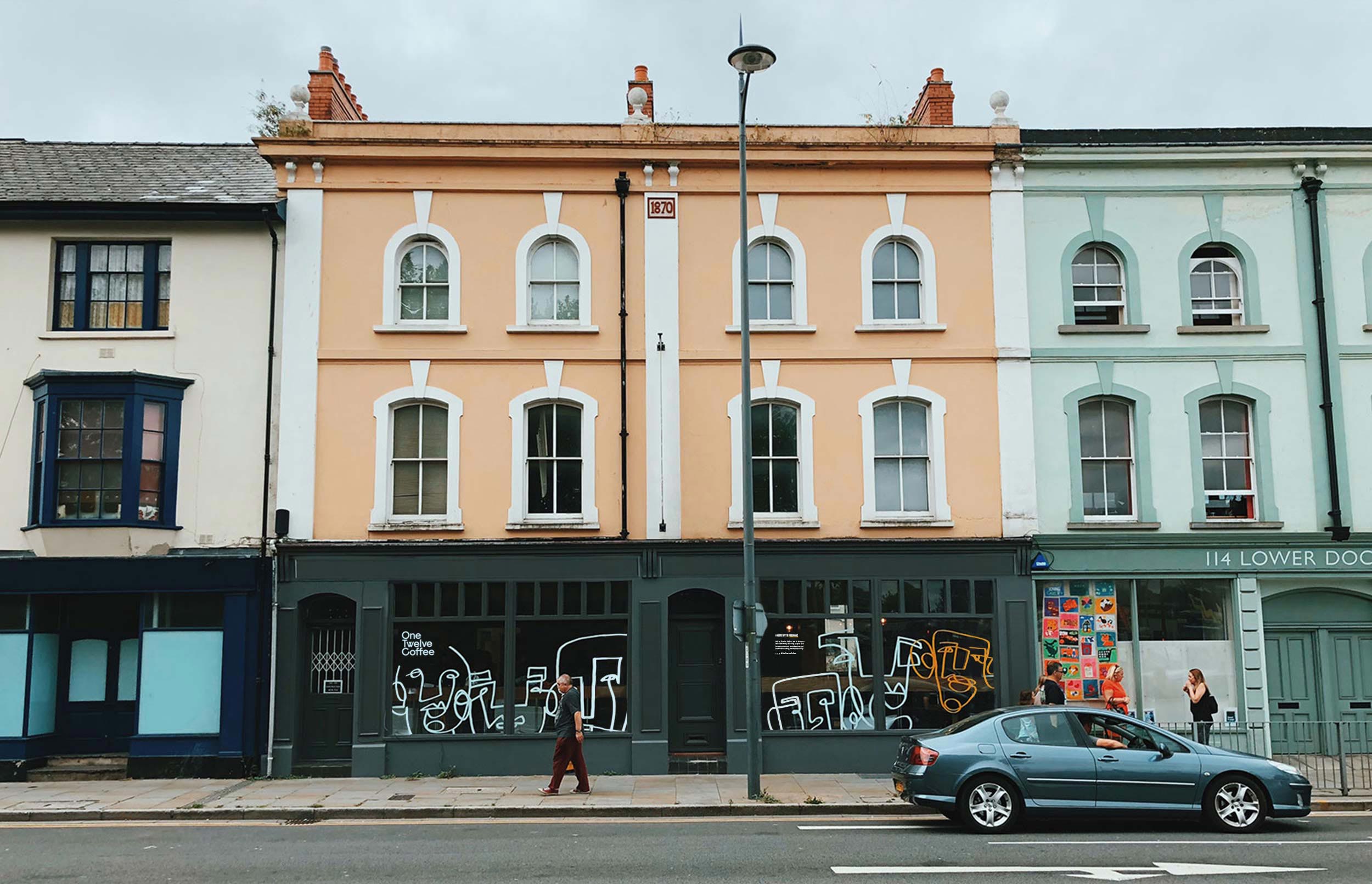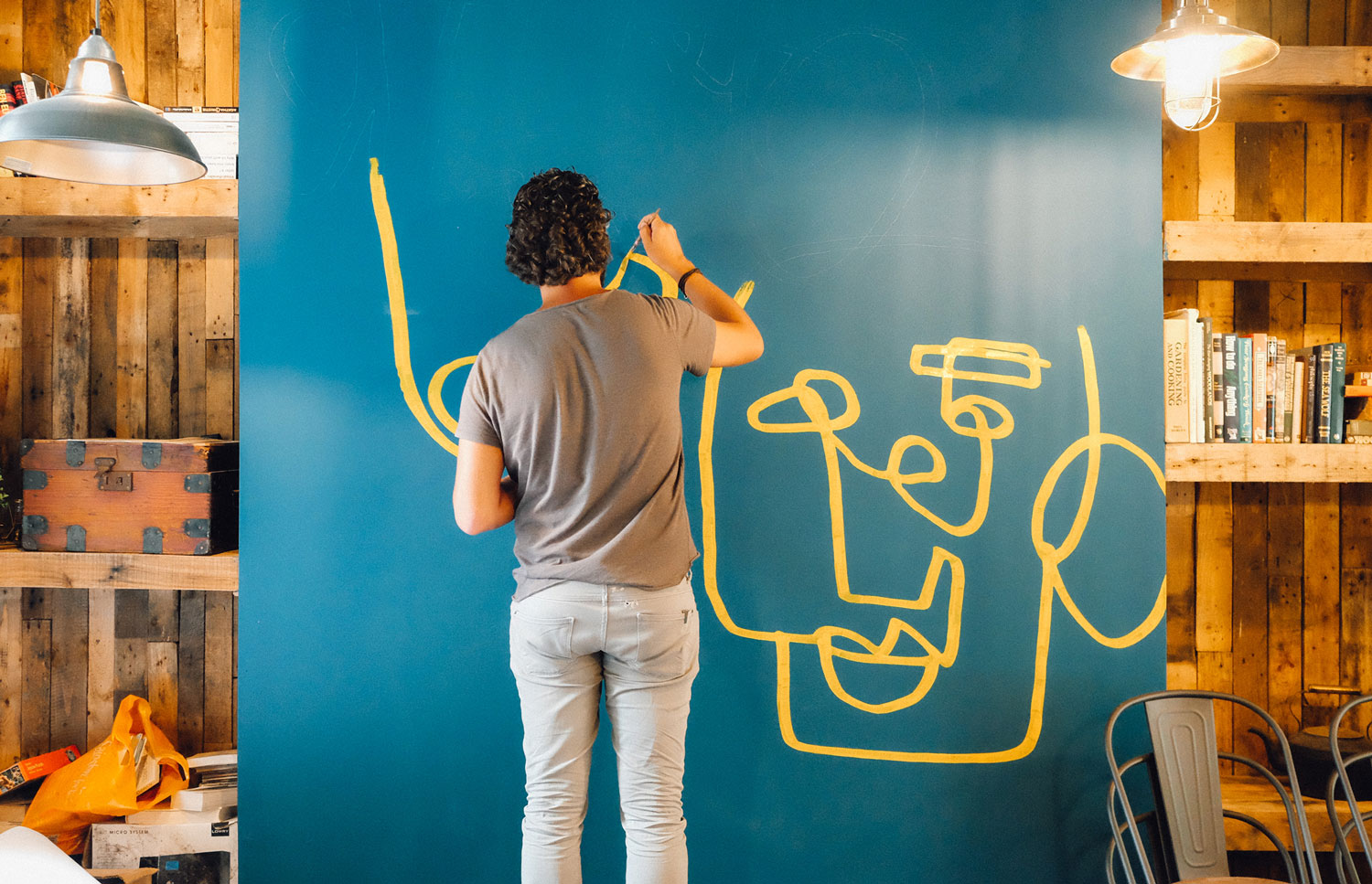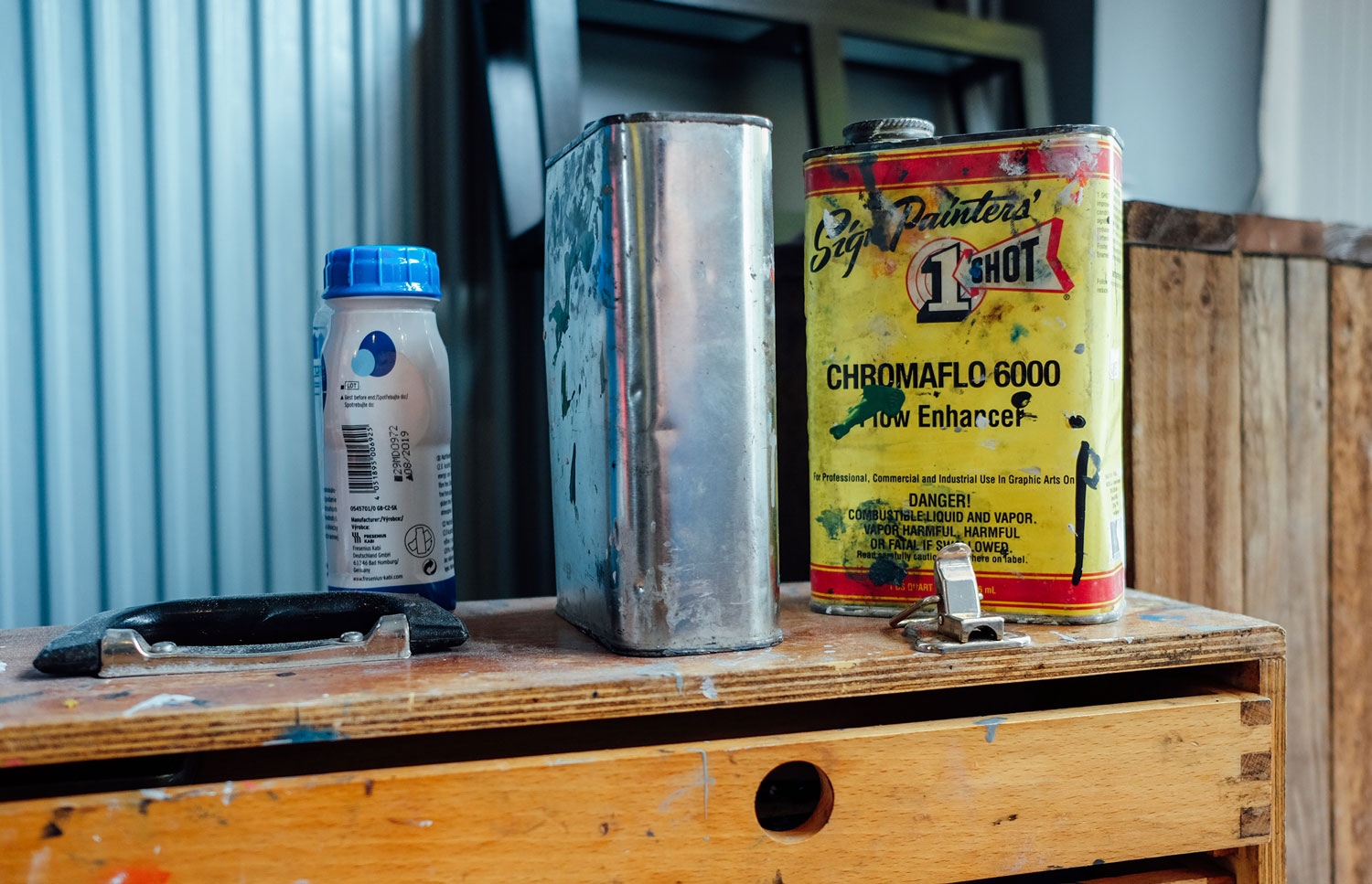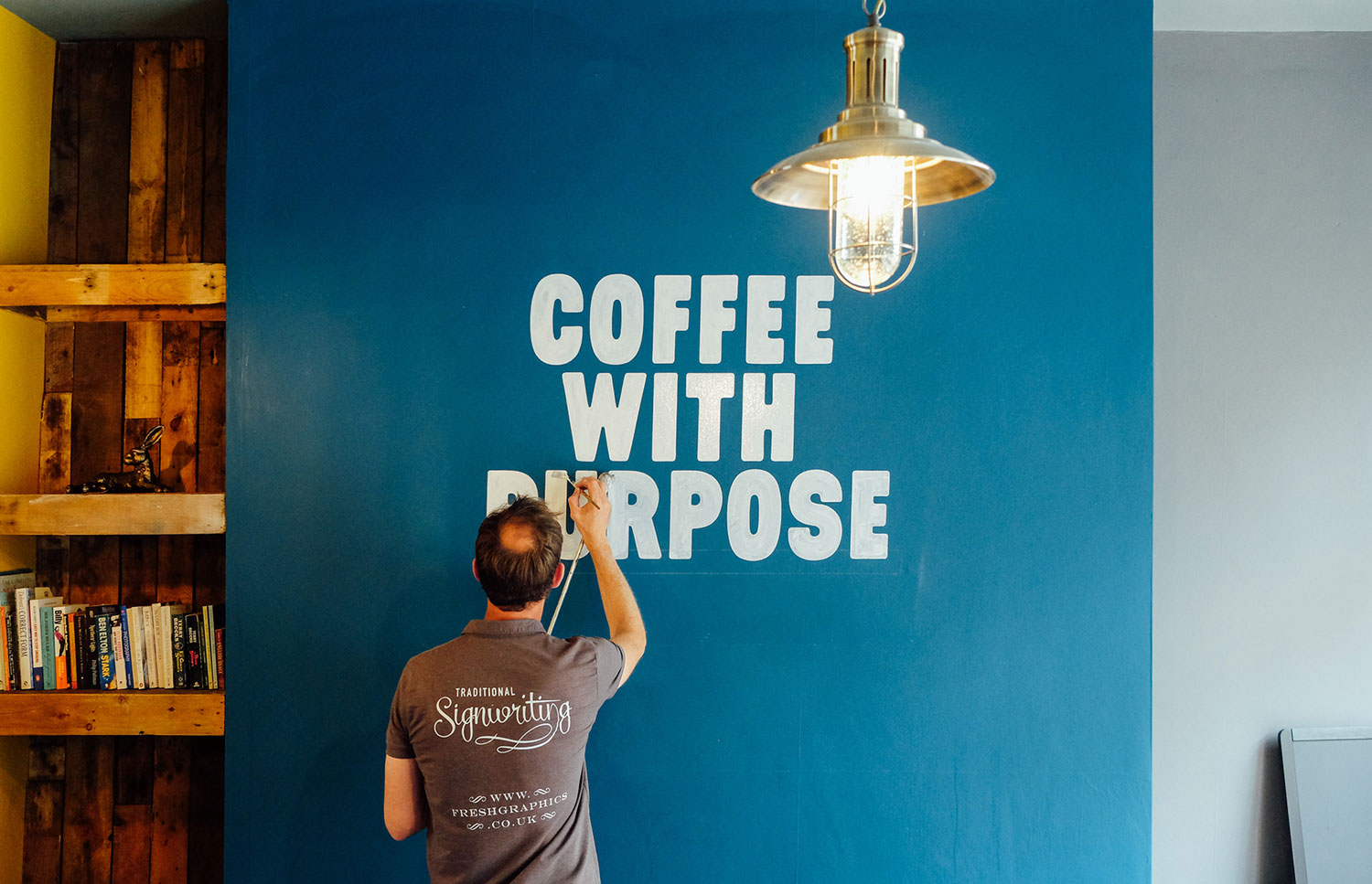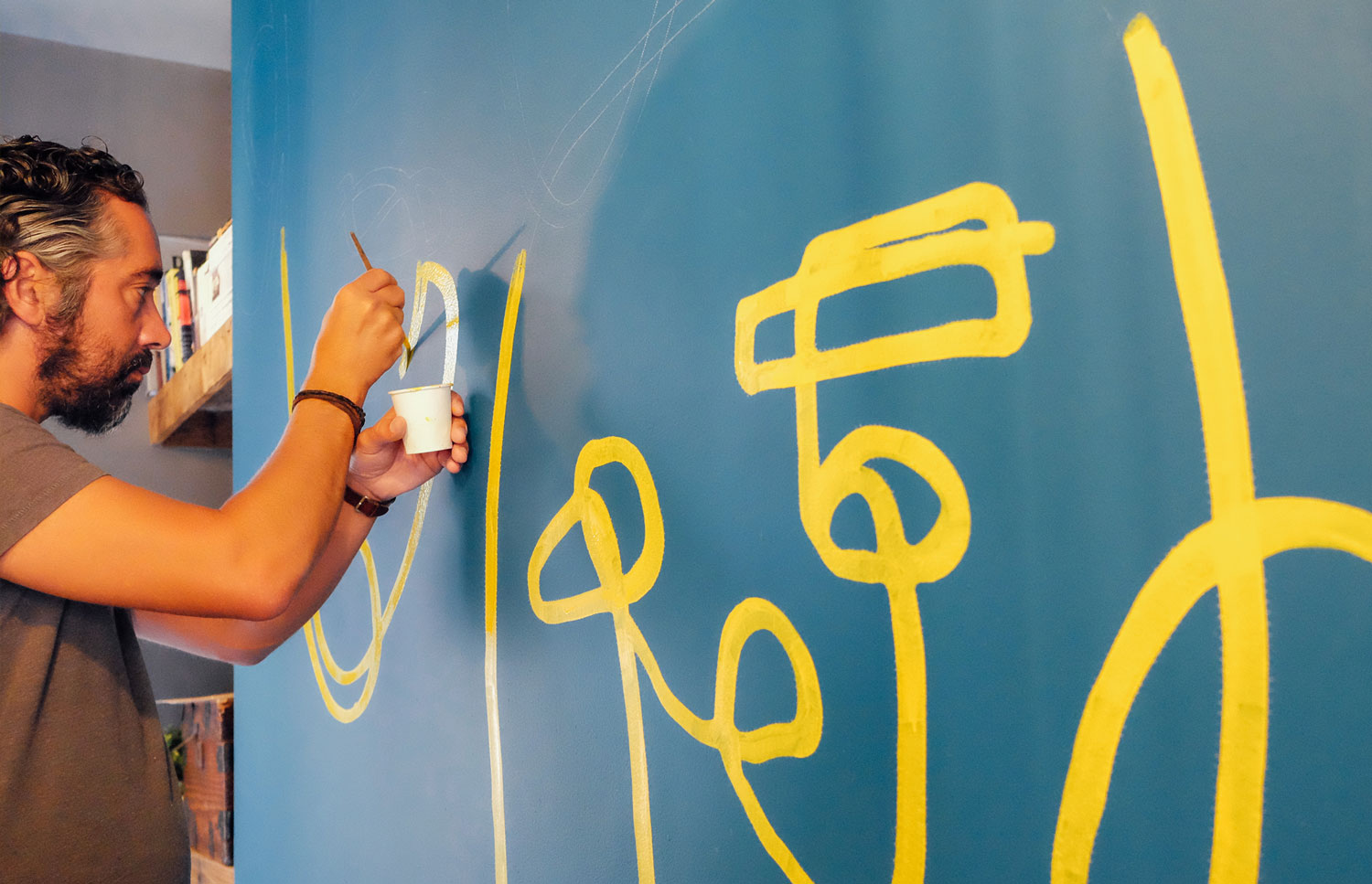 Signpainting
We were excited to collaborate with our friends over at Fresh Graphics on this project. Adrian and David are very talented traditional signpainters who made our vision a reality. With the bold strapline and iconic faces painted on the wall for all to see it leaves One Twelve Coffee with a clear and unapologetic mission, to put an end to homelessness in Wales.