A results driven campaign for Legacy Gym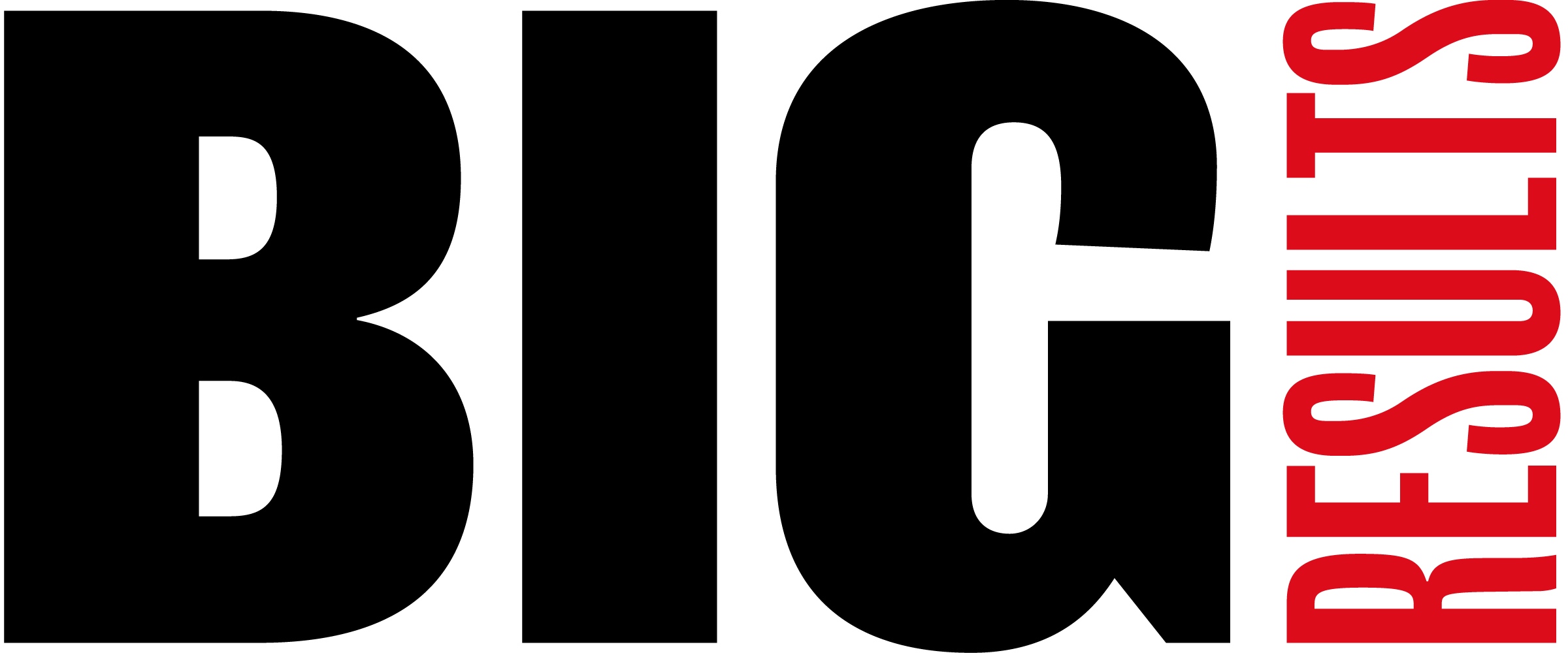 Graphic design is much more than creating pretty pictures. When we're appointed to do work for a business, we start by finding out all about their objectives. Once we have a solid understanding of the project, we use creativity and strategy to provide clever solutions.
Now, we're not saying "pretty pictures" aren't important. A quote from a CreativeMornings talk by Joe Leech often comes to mind, he said "beauty evokes emotion". He was speaking from a UX perspective, but it's true across the board—people engage more with things that are aesthetically pleasing.
The Objectives
When Legacy Gym approached us, they brought with them a very clear set of objectives, we worked with them to define them as follows:
Attract new members

As a relatively new gym they wanted to attract new members, although I feel this will always be a goal for subscription based businesses. There was already fierce competition for Legacy Gym and there was also a new local gym about to open. We had to make sure Legacy Gym stood out from the crowd and offered something better. With new gyms opening nearby, this takes us seamlessly onto point two.

Retain current customers

There was a realistic possibility that current members would be tempted away by newer and shinier gyms. We had to shift our focus to looking after current customers and ensuring they would remain loyal to Legacy.

Attract female members

Legacy Gym is run by male personal trainer and bodybuilder, Lawrence Gunter. With the majority of his clients being male, the gym naturally filled up with predominantly male members. This was never intentional, as Legacy Gym have a very inclusive approach towards fitness and wellbeing. Legacy Gym were struggling to attract female members, putting it down to it being an extremely masculine environment.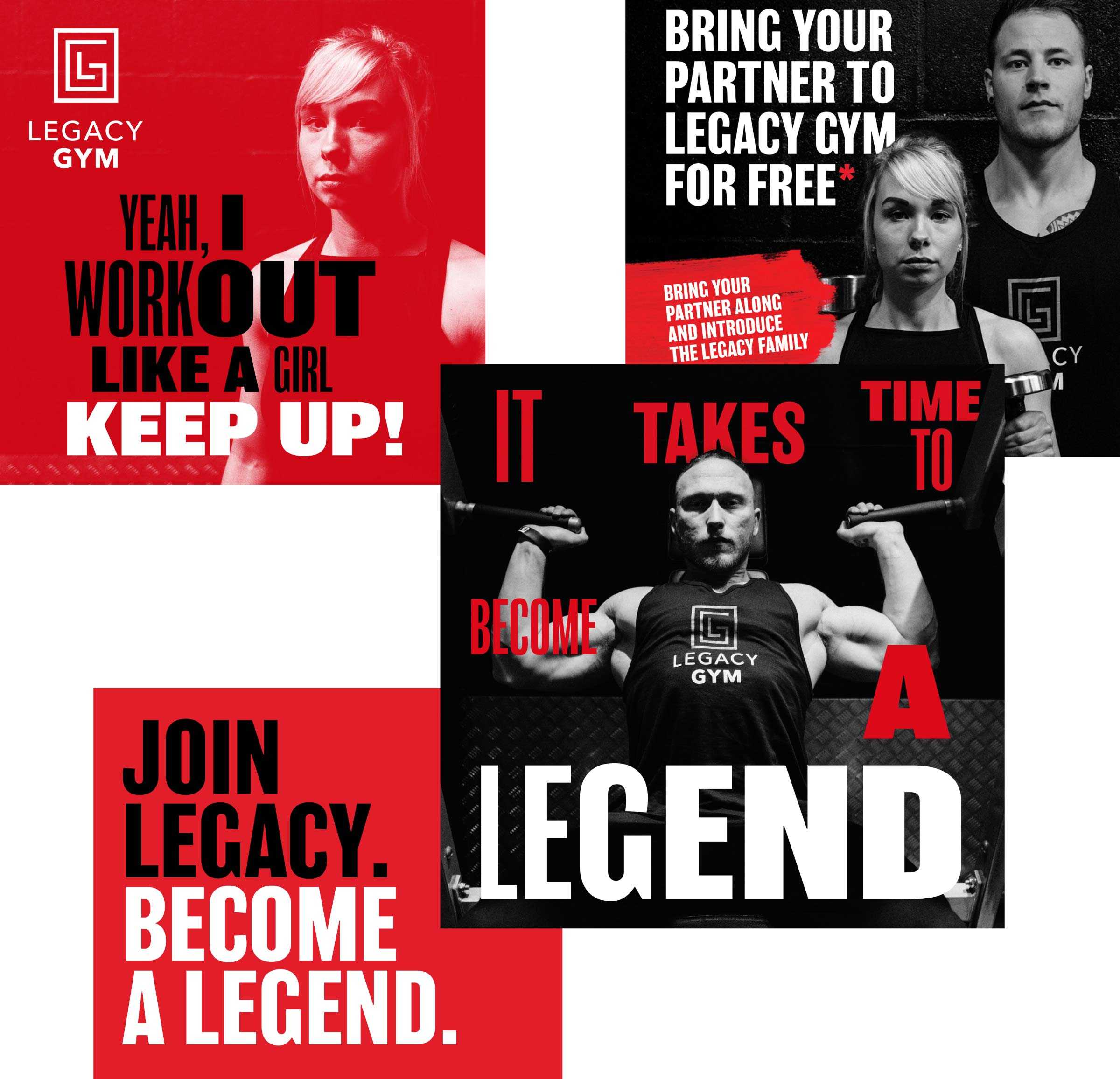 Our Solution
Together we made a plan to tackle these challenges. As there were three main objectives, we came up with three campaigns and the language to go along with each one. We needed some additional assets for the campaign to be effective, so we carried out a photoshoot to complement the messaging and make sure it worked coherently with their existing brand style.
With a range of new photographs, we were able to combine them with Legacy's bold, typographic style to produce a range of visuals. These graphics were rolled out in print, social media and email newsletters over a several week marketing push.
Measures of Success
We closely monitored the success of this campaign and kept an eye on the number of members, before and after we rolled it out. We did this, not only to gain insight but also to see where we could iterate and improve next time round. We looked closely at what the campaign achieved, but also made sure we focused on what could've worked better to help plan future campaigns and marketing.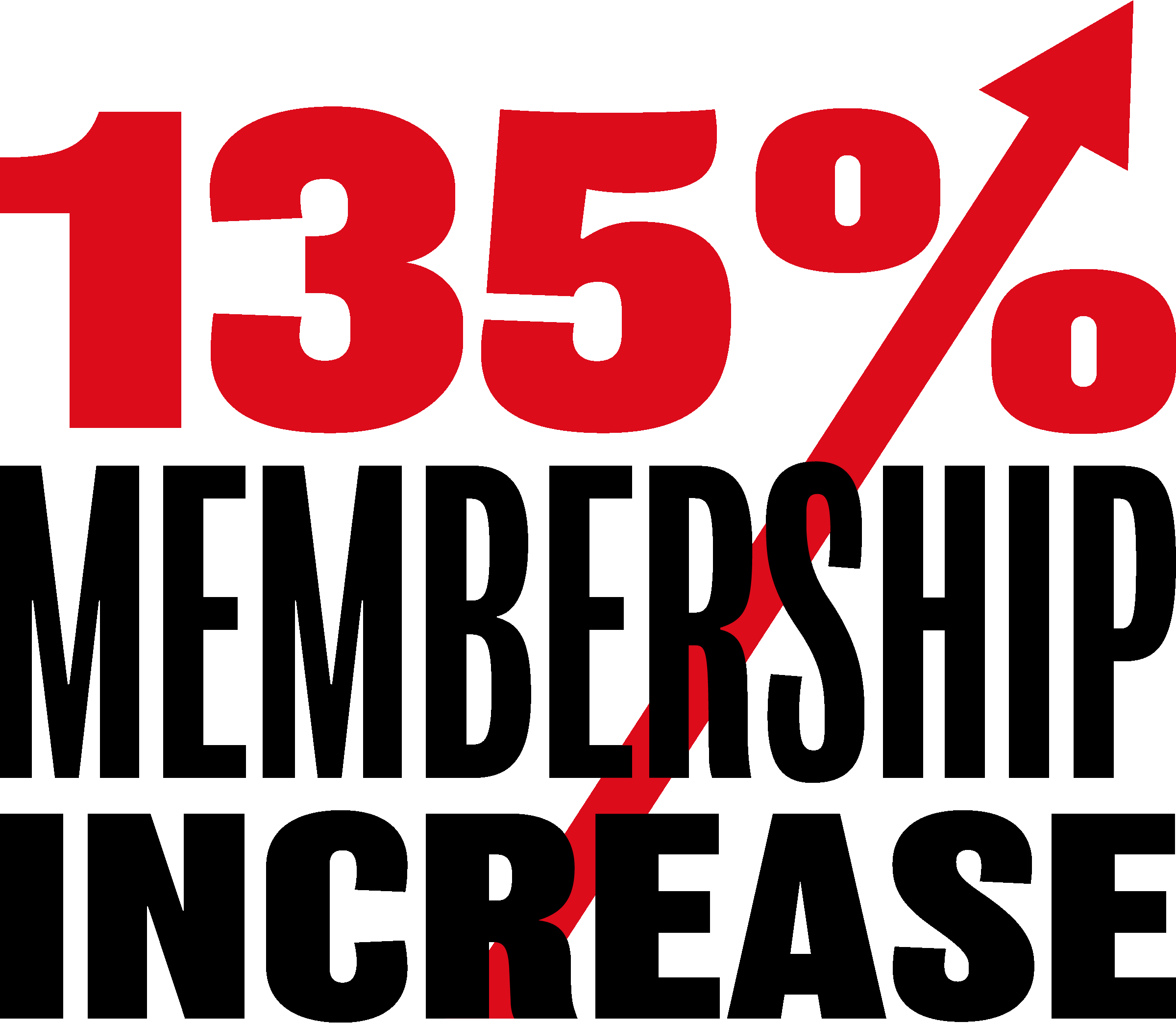 Let's talk numbers
We are delighted to report that the growth in sign ups within the time frame of these campaigns was huge. In the space of just a few months, members increased by 135% taking the gym to almost full capacity. This has opened doors for Lawrence, enabling him to potentially expand the gym and provide new offerings.
All the while we managed to retain almost every current member, with the exception of two. Coming away from metrics, it would be interesting to hear the reasons why they decided to leave, which is planned for our next round of work.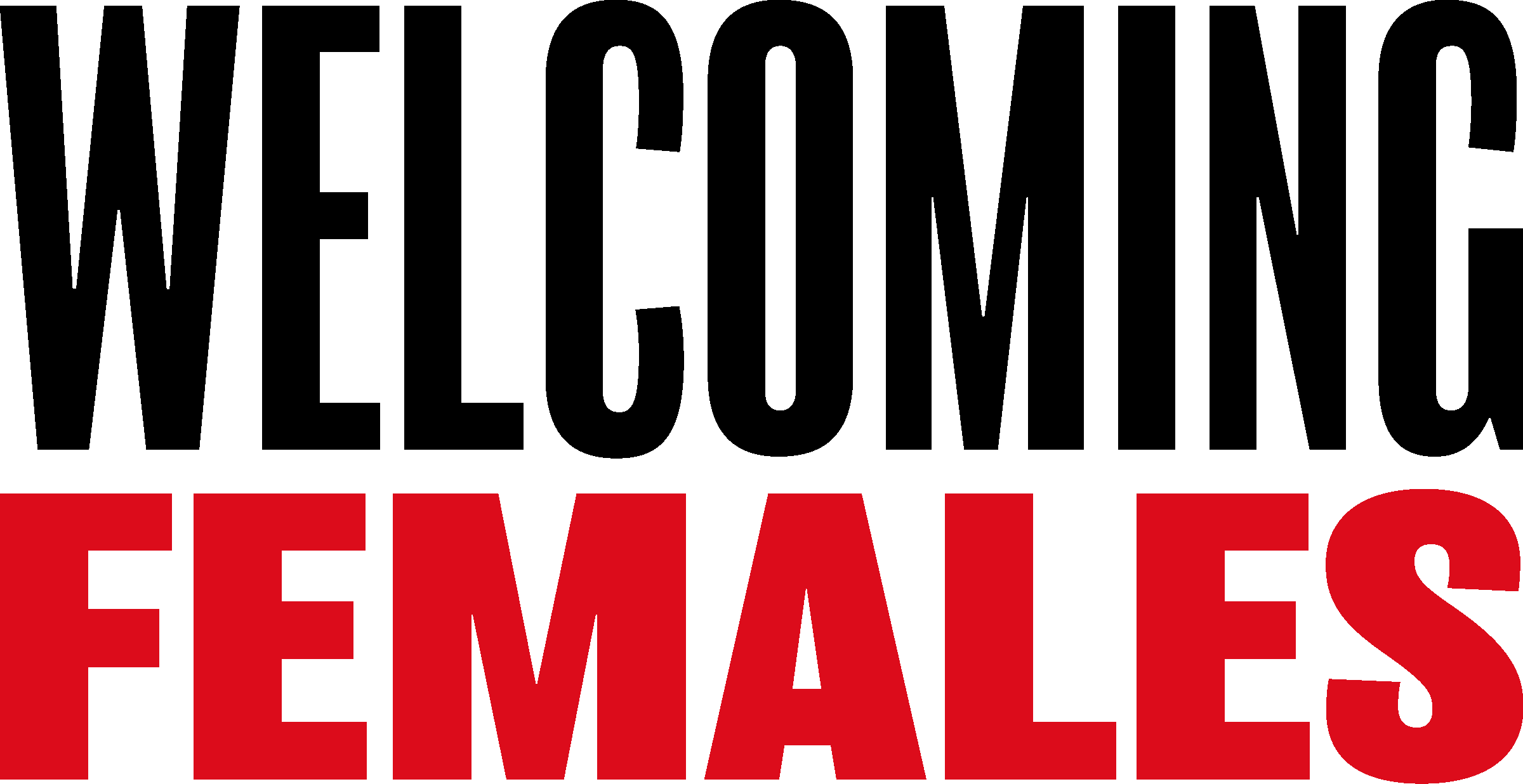 Introducing females to Legacy Gym
The third objective of attracting more females was slightly more challenging as there were more obstacles. The gym could potentially be seen as an intimidating place to go alone, there were very few current female members and it's brand style is bold and masculine.
We came up with a range of incentives to encourage more females to give Legacy Gym a chance. Firstly, we used language and photography to empower the women that want to increase their fitness by challenging some of the outdated cliches. We refused to change the design style to be more suited to females, Legacy Gym is inclusive but there are no easy routes to getting fit. We wanted to communicate that hard-working attitude across the board.
Thirdly, we wanted to provide a warm welcome, which we did by introducing a trial period. For one week, all Legacy members could bring their partners to the gym free of charge. We hoped this might reduce the intimidation factor and provide additional support for females interested in joining.
We were thrilled to hear that, of all the new members who joined after the campaign began, 26% were female. To the client, this was a big surprise but one that he very much welcomed.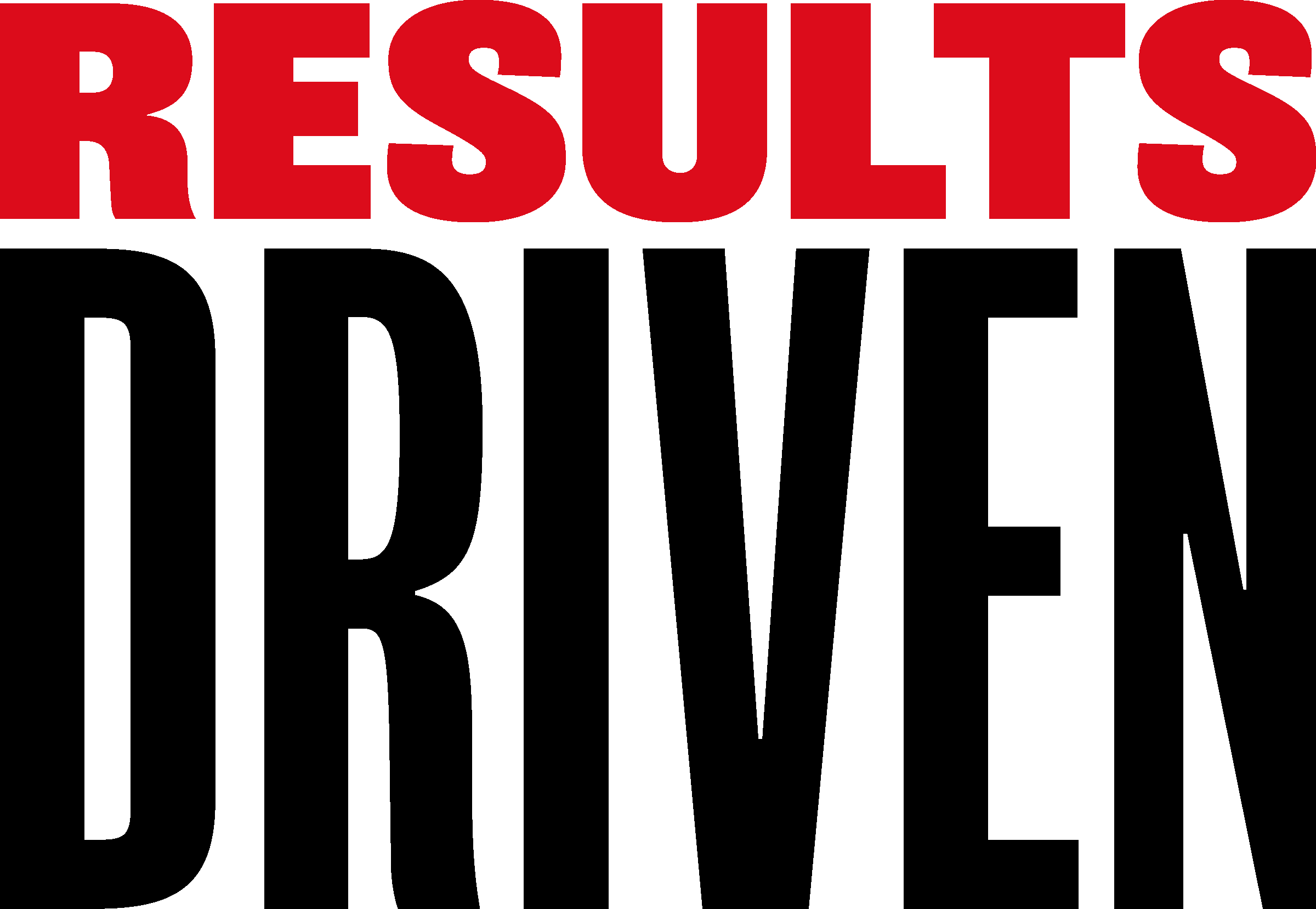 We are driven by results
Everything we do, whether it be branding or campaign work—is driven by getting results that help businesses thrive. These campaigns for Legacy Gym were a great success, but we know you can never rest on your laurels. We are already looking at the next steps and how we can build on the work we've done.
You can check out some of the work we did for Legacy Gym here.