Unfinished Film Festival
What makes a film unfinished?
It's tempting to disregard creative projects that don't get finished, approved or published, as if they aren't worth anything without an audience. Unfinished, Women filmmakers in process, is a festival that highlights what can be learned from films that have been disregarded at some point in the production process. The organisers, Alix Beeston and Stefan Solomon point out the fact that the reasons for a film not being finished are often just as, if not more fascinating than if the film were completed and released. As always, fact can be much stranger than fiction.
Working with John&Jane was a revelation! The team threw themselves into our project and really bought into our vision. John&Jane listened carefully to our needs, developed a suite of amazing draft concepts, and worked tirelessly to make sure our marketing and branding materials were both beautiful and effective. Their enormous enthusiasm, diligence, and transformative design thinking did not merely supplement creative work on the film festival and its substantive program, but actively transformed it. 

Dr Alix Beeston
The festival featured screenings of key unfinished films, workshops, and round table discussions mostly held at Cardiff's Chapter Arts Centre often with the film directors in attendance. All worked to highlight the role of women filmmakers, editors, directors, and collaborators and the challenges they've faced over the years.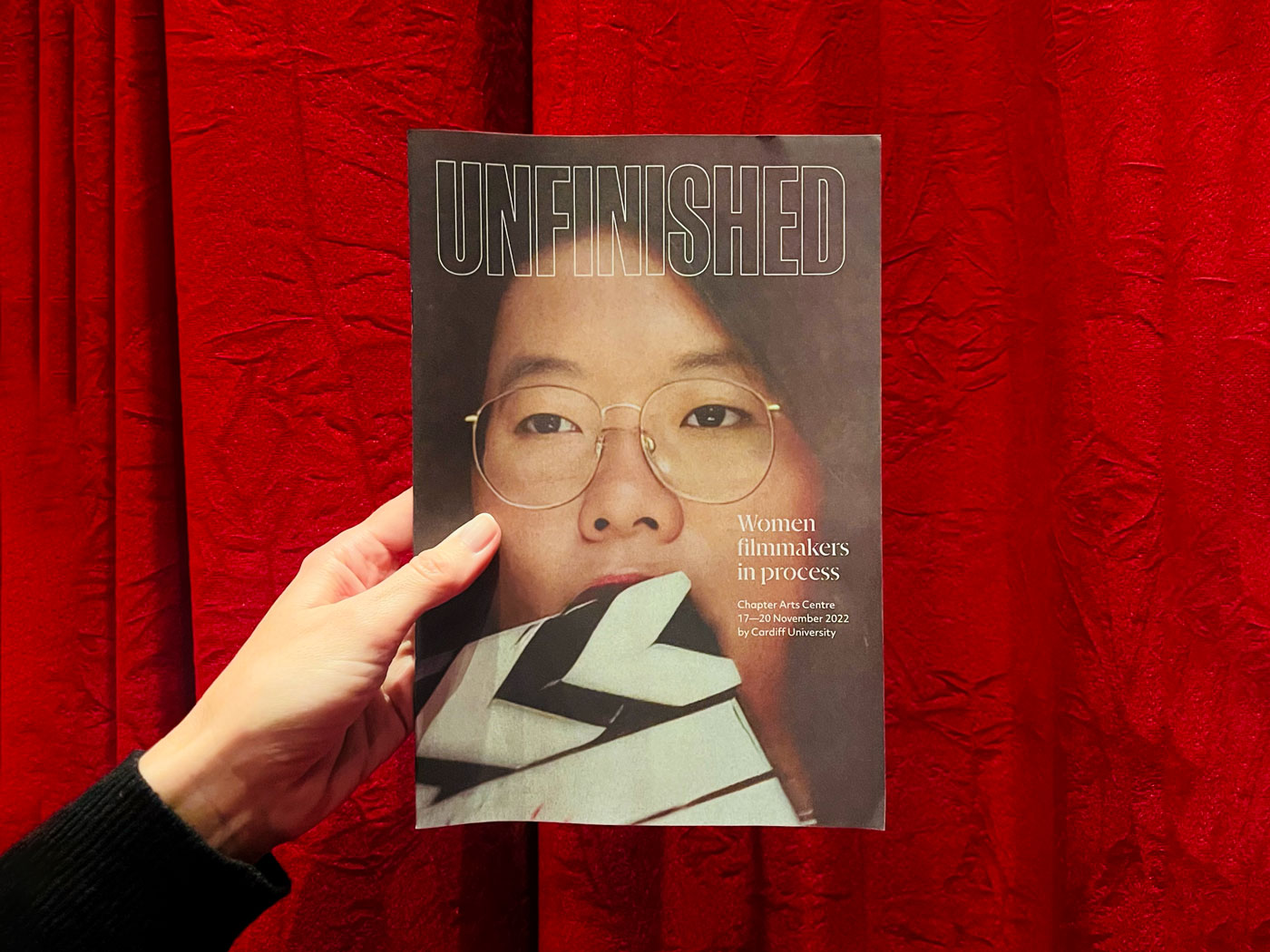 Translating the unfinished
The festival needed a distinctive identity of its own to showcase the topics covered within the films and essays that accompany the event. The quality of content that we had to work with was outstanding and we enjoyed translating it into a newspaper, as well as posters, social cards and a short film to promote the event and celebrate the works being shared. We loved the challenge of translating the idea of the unfinished using visual language. 
We were lucky enough to have the opportunity to see the brand in use at the showing of Sandi Tan's 2018 documentary Shirkers, hosted by Alix and introduced by Dr Sophia Siddique, one of Tan's collaborators and a principle subject in the film. The film and Q&A that followed was all at once enlightening, funny, and inspiring and left us feeling very lucky to have been able to contribute to a festival of this calibre.   
We were especially impressed by the team's smart design ideas and their exceptional attention to detail, including the production of a stunning trailer for the festival and the printing of the programs on newspaper stock to convey, in a tactile way, the degraded quality of much unfinished work. The initiative they showed in the development of the project made us feel that they were genuine collaborators and champions in it. The materials John&Jane produced were a highlight of the festival. Their work was instrumental in the presentation of our work to diverse audiences in Cardiff and beyond—and to shaping audience members' ideas about the value of unfinished films and of women's filmmaking more generally.

Dr Alix Beeston