Fat Whites x Distant Pod Collaboration
We recently worked with our favourite coffee roasters and our favourite podcast to help raise money for a cause close to my heart, literally. Partnering with Save a Life Cymru and the Football Association of Wales, the aim is to help place more defibrillators and lockable cabinets in the right places across Wales. If your local sports club could benefit from having one, you can reach out to the Distant Pod on Twitter to get the ball rolling. 
The Fat Whites x Distant Pod coffee collection is now available to purchase here.
Buying a defibrillator is just step one. It needs to be in a lockable cabinet that the public can access in an emergency.

Steff Garrero
As Steff discussed in the video, many clubs have defibrillators but they're often locked away in the boot of someone's car. Out of sight and impossible to use if needed by a member of the public. What this campaign will be looking to achieve is not only purchasing the defibrillators, but also the lockable cabinets so they are accessible to everyone in the area as well as the sports club, 24 hours a day.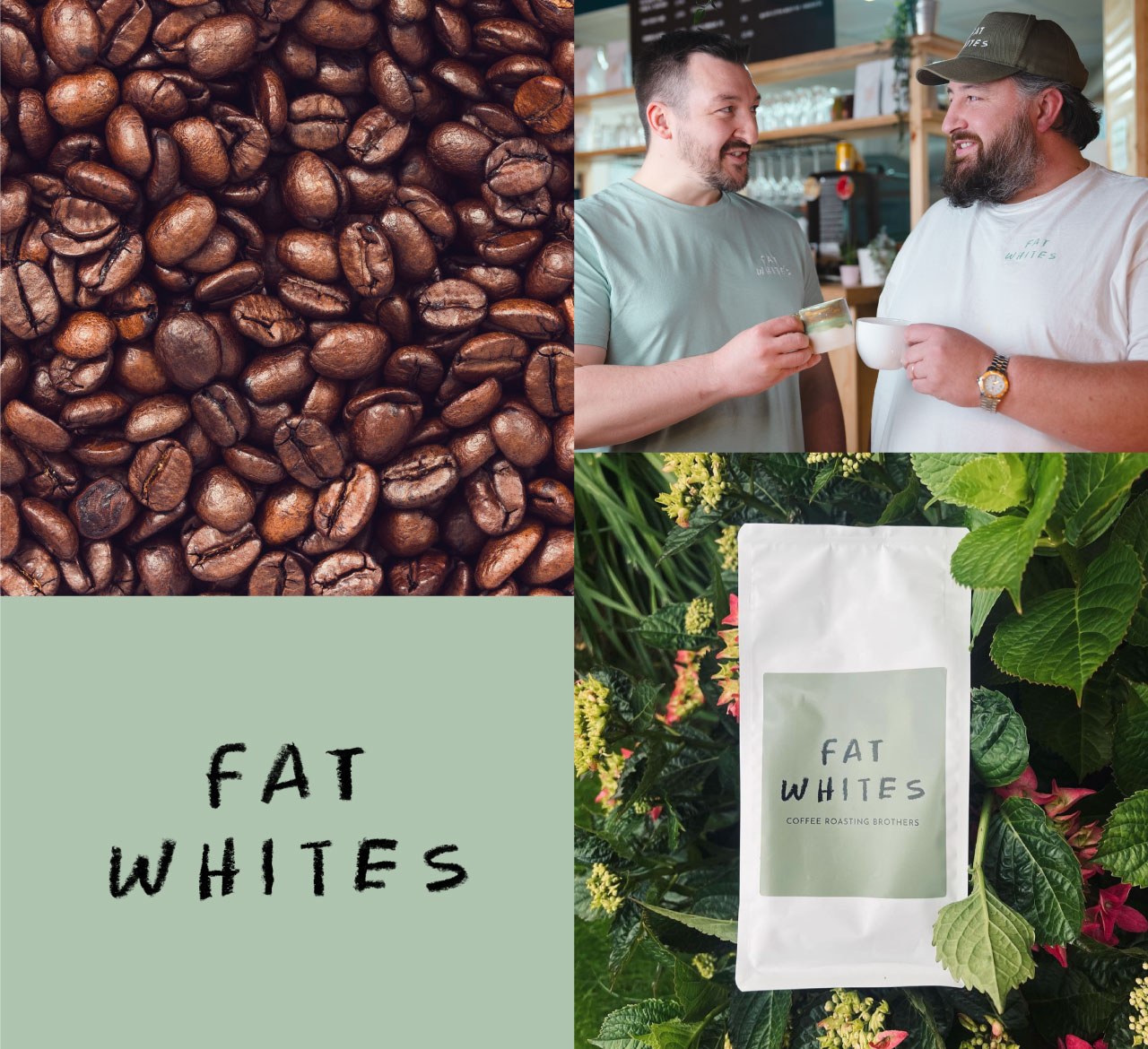 Who are Fat Whites?
Fat Whites are two brothers, Jon and Jamie, with a shared passion for roasting coffee. The name comes from the fact that they're big boys and share the last name, White. It also incorporates a playful twist on the popular coffee order, a flat white. Although the name was all their idea, we did help them with their visual brand a couple of years back. They started small and with their original packaging literally being handwritten by Jamie, we decided to maintain that personal touch in their new logo. Handwritten in an oil pastel; Fat Whites. No nonsense.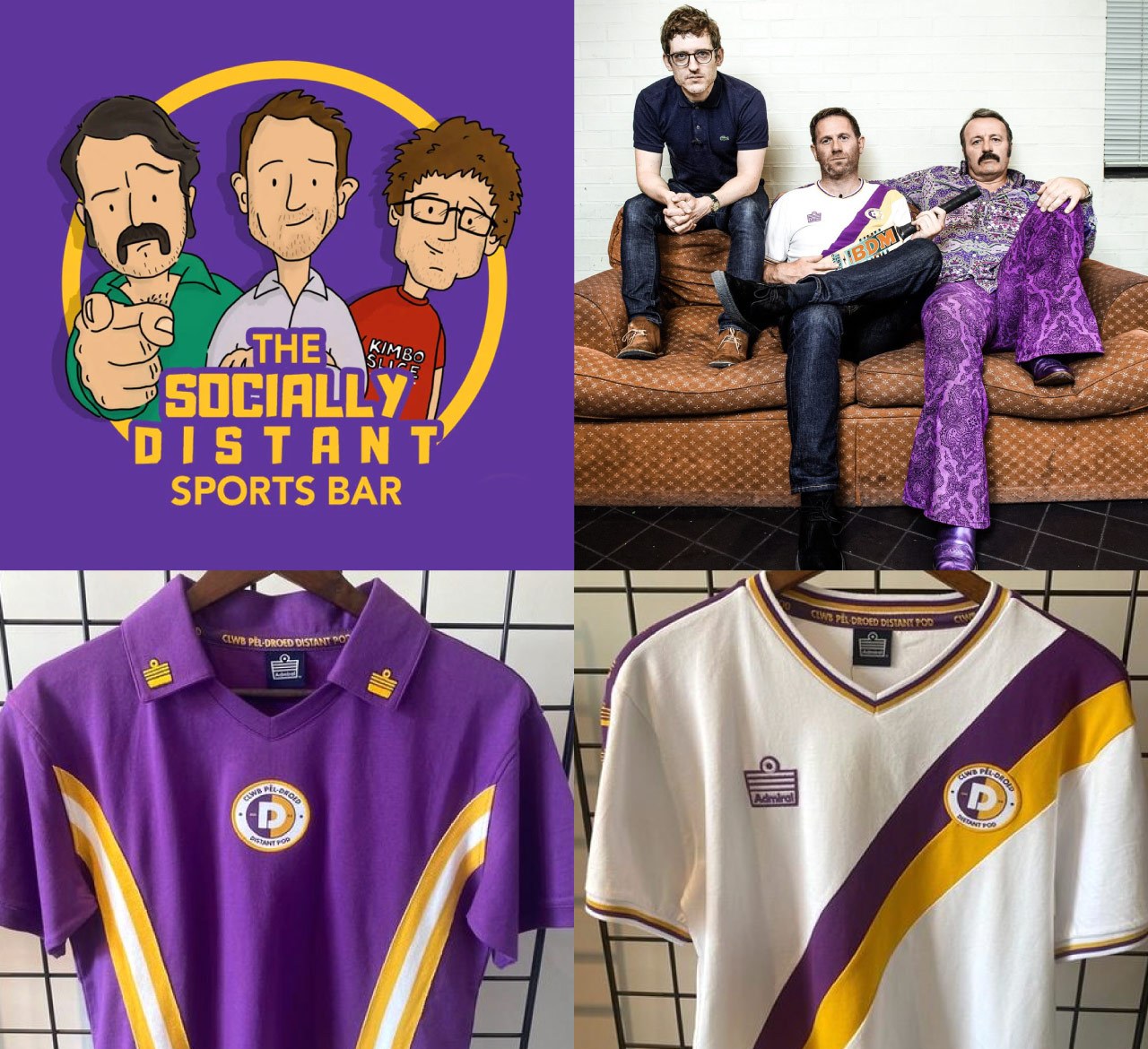 The Socially Distant Sports Bar Podcast
The Socially Distant Sports Bar came about in March 2020, just as the UK went into its first lockdown. With all sport being cancelled for the foreseeable future, Steff Garrero, Elis James, and Mike Bubbins came up with a brilliant idea for a podcast. Each week, they would choose a couple of sports clips from the past and discuss them as fans. A simple formula that has proved to be effective with three very different personalities, all hilarious in their own way. With sport helping so many people's mental and physical health, I believe this podcast really filled a gap, helping thousands of people through a difficult period. Through humour, shared interest, and positivity it found a way to connect sports fans every week in a safe and socially distant way.

Raising money for Save a Life Cymru
I was born with a heart condition and have found myself in some frightening situations over the years, so I knew this was a great opportunity for John&Jane to put our skillset to good use. We agreed to design the packaging for the coffee collection and a range of social assets. We also produced a short video to help communicate the purpose of the collaboration. The packaging uses the iconic purple and gold colours of the podcast, an instantly recognisable palette to fans. There are three coffee roasts, one for each of the hosts of the Distant Pod—we've illustrated Elis, Steff, and Mike putting them front and centre of their very own Fat Whites coffee roast.
Launching today, you can purchase all three packs of Fat Whites x Distant Pod coffee here. You get a lovely bag of coffee beans expertly roasted by the guys at Fat Whites and all the profits will go to making a real difference around the country.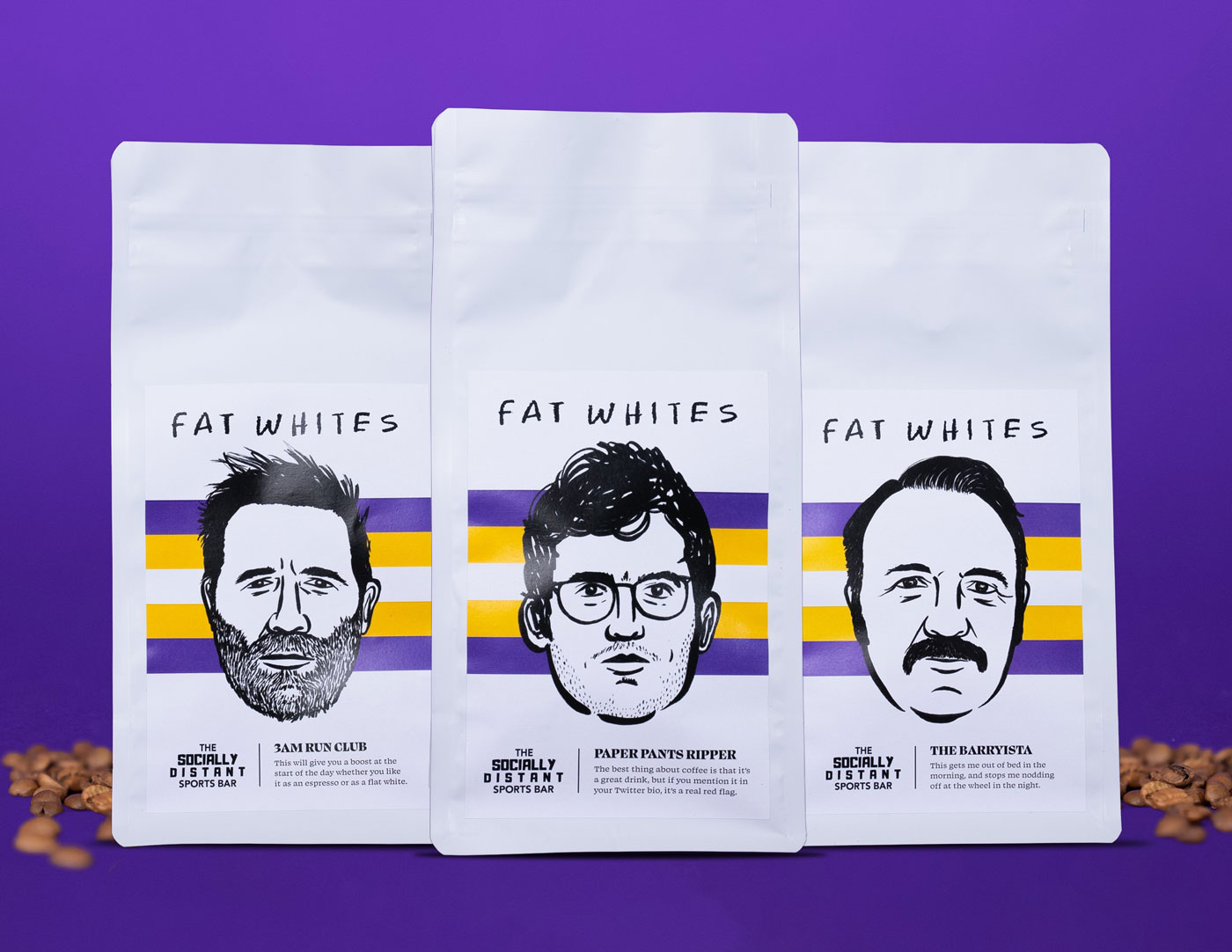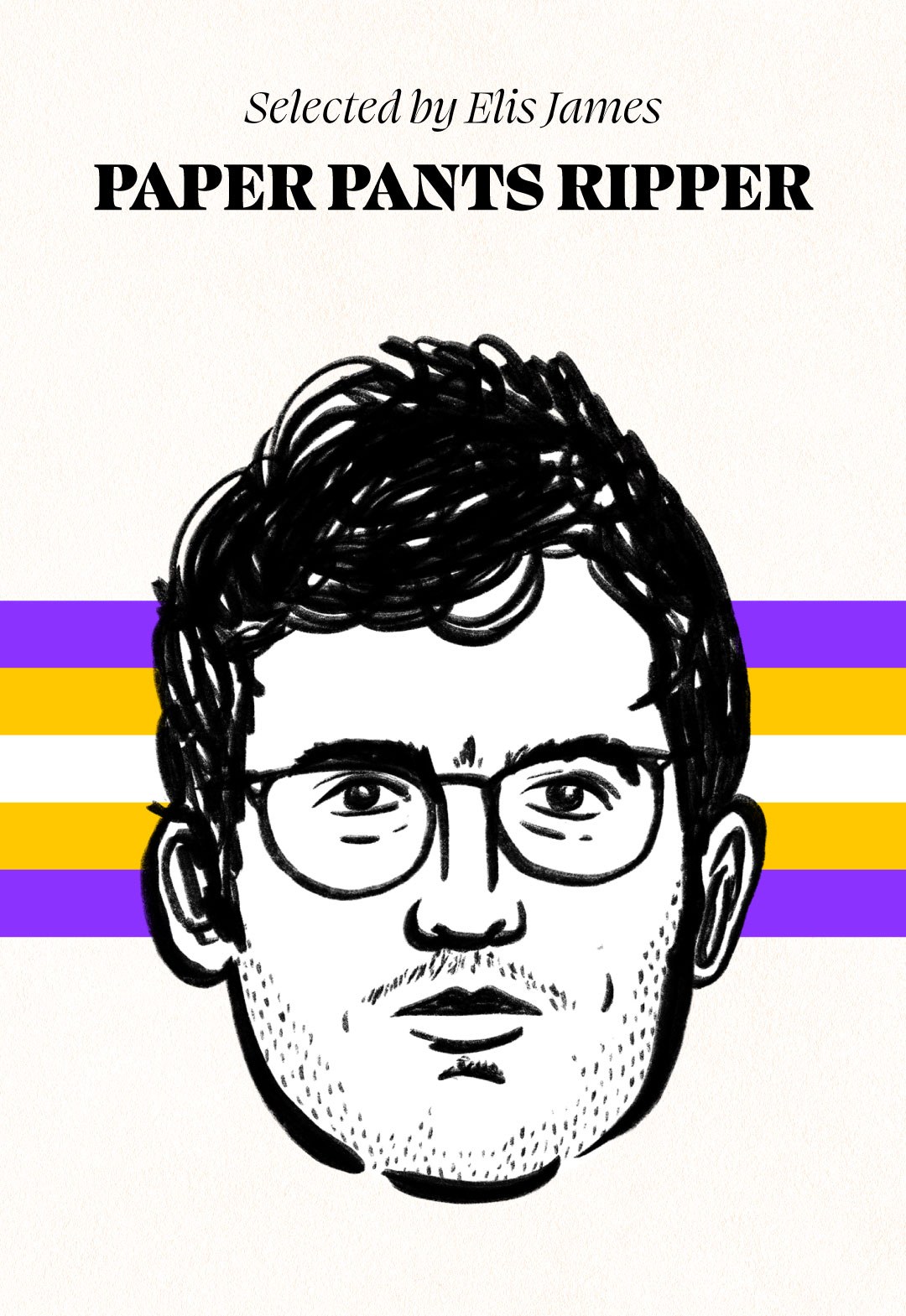 Paper Pants Ripper by Elis James
Any listener of the pod would know Elis takes his coffee seriously. His roast is a delicate and complex drop, best enjoyed black, with floral and fruity notes.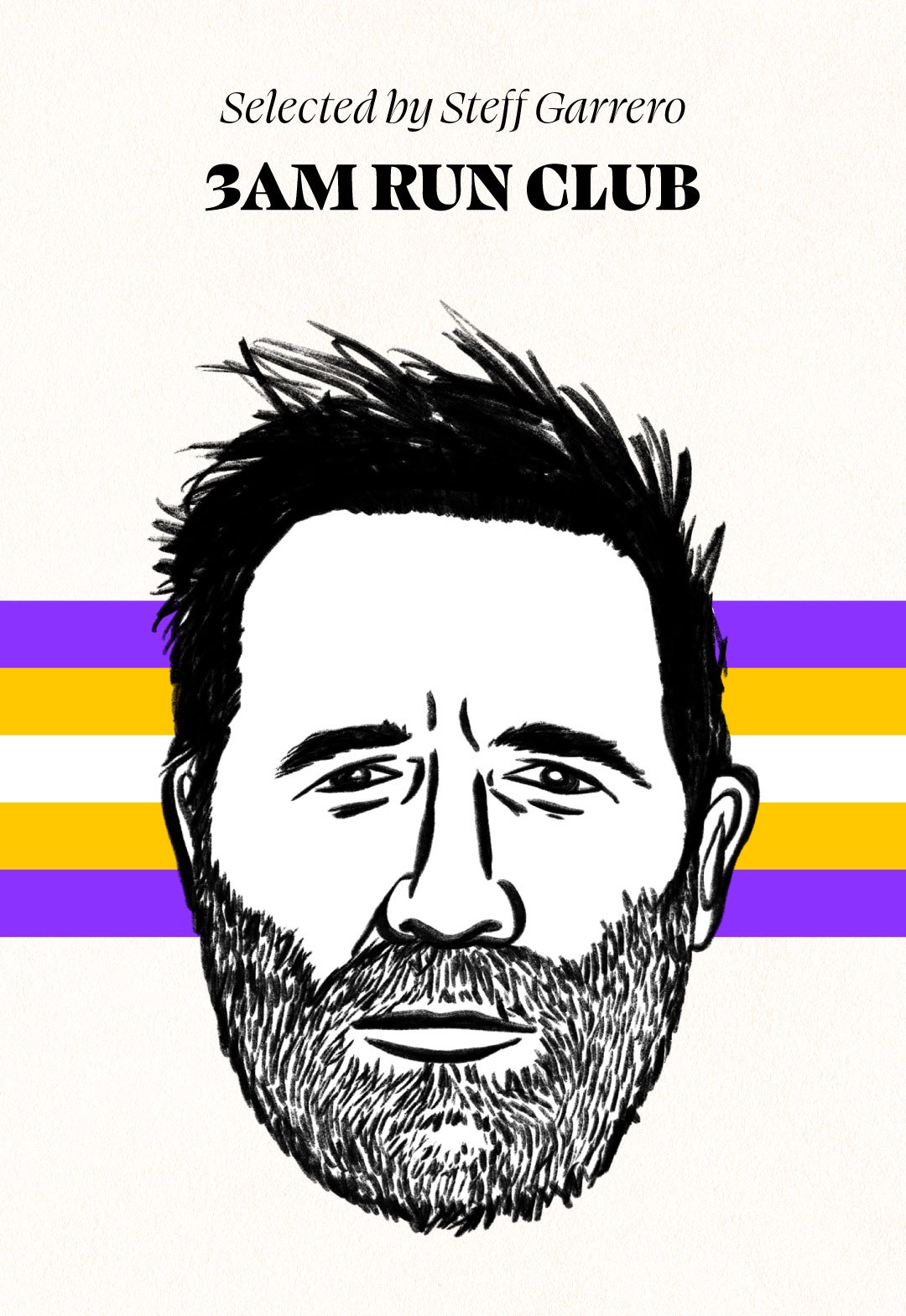 3am Run Club by Steff Garrero
Steff likes a top-notch espresso, something that is going to set him up for his day after a long-distance run in the middle of the night. A smooth, sweet espresso, with light citrus notes. A classic kickstart to your day or a smooth pick me up with milk of your choice.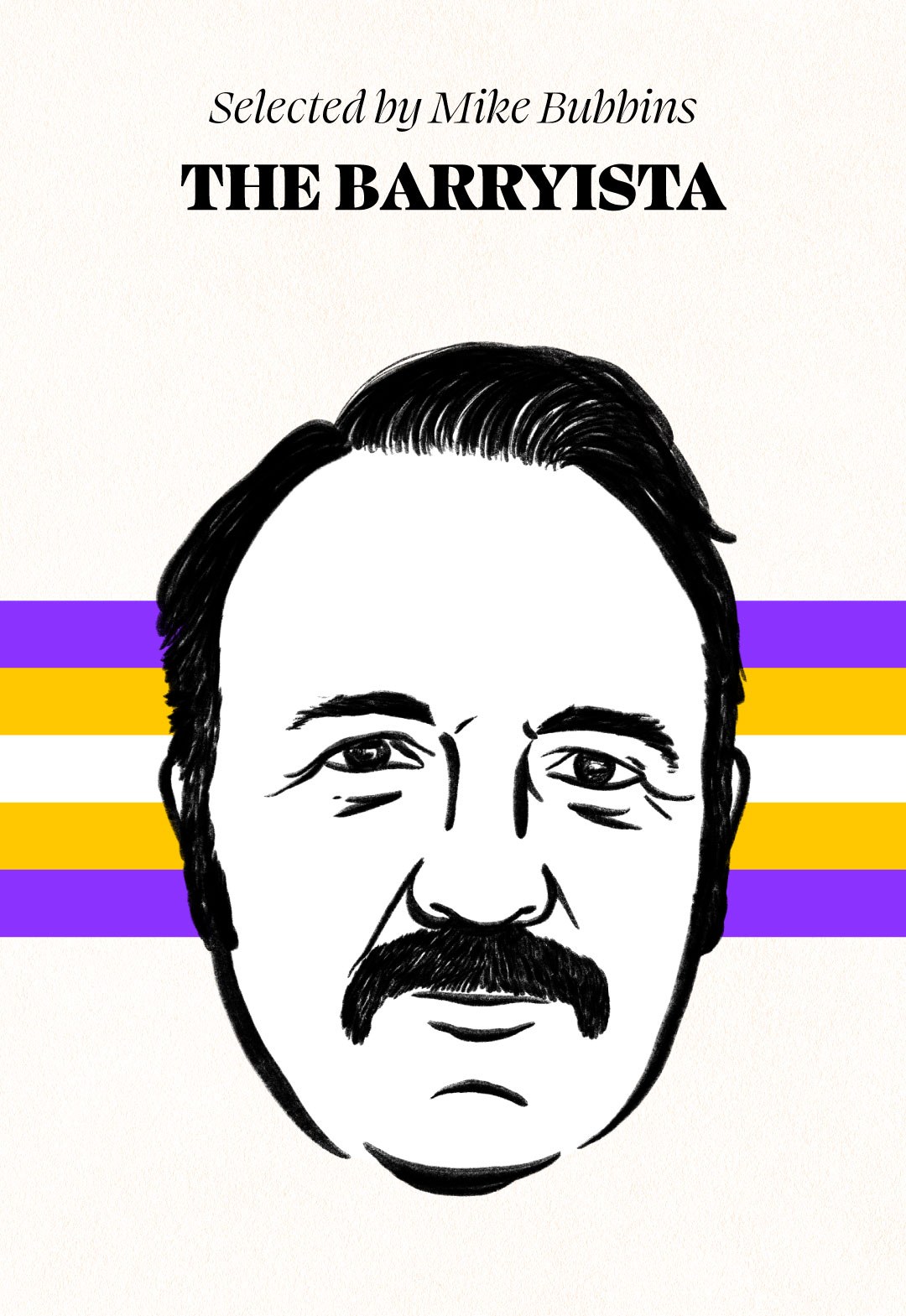 The Barryista by Mike Bubbins
Barry's favourite son, Mike Bubbins has named his roast The Barryista, and he doesn't play any games with his coffee. His blend is a simple, strong delicious mug of great-quality coffee. Can be enjoyed with milk, sugar, and a moustache.